---
Home (cover) > Bookroom > Book Reviews
---
Issue: Summer 2015-6
Devoted in Death (2015) book review
Death Takes a Ride
It's winter in New York City, in the second half of the twenty-first century, and for Homicide Lieutenant Eve Dallas and her billionaire ex-shady husband Roarke, death never sleeps. A dead body reveals a trail across the U.S.A., and the team we have come to know so well are on the case.
J. D. Robb, is of course the pen name of Nora Roberts. By that you know there's going to be a bit of relationship stuff, most likely some sex, and probably a bit of character-driven humour.
Roberts has developed into a superb storyteller.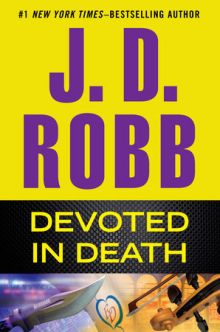 She works across many genres, very successfully, and her prodigious output reflects her serious attitude to her craft. She doesn't try to write 'great literature', but instead concentrates on telling a cracking yarn filled with interesting people.
Her 'In Death' series with Eve Dallas and Roarke is set in 2060s New York. Roberts gets to play with futuristic tech, to use occasional science fictional concepts, and to explore the future dynamics of relationships and their legal statuses.
The series is highly compact, with some stories starting the day after a previous one finished. Roberts is to be congratulated for her attention to detail and lack of continuity errors.
Put aside some time for this book, because once you start it, you'll be carried away. And if you haven't read the whole series (there are 52 novels and novellas), you may need to put aside a considerable time to devour them all. (We have a reading order for In Death stories on Festivale.