---
---
Issue: Winter 2016
Bay of Sighs (June, 2016) book review
The Guardians Trilogy Pt2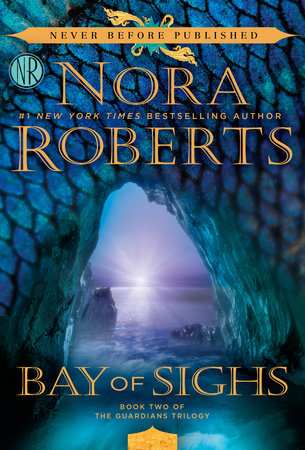 To celebrate the rise of their new queen, three goddesses of the moon created three stars, one of fire, one of ice, one of water. But then they fell from the sky, putting the fate of all worlds in danger. And now three women and three men join forces to pick up the pieces...
Nora Roberts is an established, popular name in the romance genre. Her work spans supernatural, crime, adventure, but it has a common structure. With the occasional exception, she has three women, who meet three men (or know three men), and through a story arc that covers three books, she writes about three romances.
Roberts has a simple, engaging writing style, and can demonstrate a lively wit. Her work as J.D. Robb (the Eve Dallas and Roarke "In Death" series) is an excellent example of managing a continuing relationship (or several) and injecting humour into the relationships.
That said, there is a suggestion that Ms Roberts has "phoned in" the Guardians Trilogy. Six people, not all human, some magic, gather together to find the hidden stars. They must learn to work together, fight a goddess (mother of lies) and human and inhuman creatures. And of course, they must hook up with some obligatory sex.
As the characters meet, the reader quickly guesses who will be partnered with whom. The romances offer little tension in the story, the couples just seem to fall together without too much angst. Such reluctance as the hero of this particular book shows in 'taking advantage' of the mermaid Arnika, is easily surmounted.
There are moments of Roberts humour, but Bay of Sighs, and The Guardians Trilogy generally (Part one is Stars of Fortune), relies too much on formula and not enough on fresh fun.
Not badly written, but not bravely written either.
Buy from Amazon, help us fund the site

For posts about Melbourne events, places, news, reviews, giveaways, see our Facebook Page: