A Reel Life film section
Issue: Summer, 2007
Nomads movie review
Doctor Flax (Lesley-Anne Down) is called in to treat an hysterical dying man. His dying shout in her ear links her inexorably to his story. He was a French anthropologist (Pierce Brosnan) and his wife (Anna Maria Monticelli) came to L.A. to start a more ordered life than their previous pursuit of nomads. Unfortunately their home appears to attract a suspicious group and Pommier begins to follow and study them, discovering that they are nomads in the midst of a big city.
Now Flax is haunted by Pommier's life as she is forced to relive it, and to discover the horror that sent him to his death.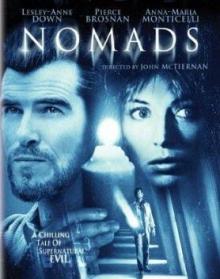 We are so very far from home. All of us. We have wandered so very far from home.
Nomads is an elegant story, well-told and fast-paced, all that is best from the unifying influence of a single writer/director, in this case John McTiernan. It begins as a mystery and builds, taking us with the characters up until the final horrific revelation.
Well-done and thoroughly enjoyable, this is an excellent example of the kind of horror that creeps up on the audience and relies on the idea, not a massive amount of gore and a soundtrack filled with screams. Excellent and highly recommended.
by Ali Kayn
Australian release 29 May 1987
For credits and official site details, see below
Search Festivale for more work by the film-makers below.

See also:

for movie, TV show, or person

Film commentary and upcoming movie release dates at reel-life.info

Just the facts:

Title: Nomads (1986)
Written by: John McTiernan
Directed by:John McTiernan
running time: 91 mins
rating: M

---

The Players: Pierce Brosnan, Lesley-Anne Down, Anna Maria Monticelli, Adam Ant,

---

Official website:
IMDb entry

---

For session times of current films, use the cinema listings on the Movie links page. For scheduled release dates, see the coming attractions section.

For more information about this movie, check out the internet movie database.
For the latest additions to Festivale, check out the change history section.