A Reel Life film section
Issue: Autumn, 2010
Basic Instinct (1992) movie review
Girls Just Wanna Have Chaos
In picturesque San Francisco, probably dirty detective Nick Curran (Michael Douglas) is fascinated by the brilliant, hard-living and wealthy writer (Sharon Stone) who may be his prime suspect. She has written a best seller and now her sometime lover has been killed in the manner of the murder in her book. Is it research or is it murder? Do the deaths in her previous books have their own tale to tell?
Unabashed sexy and violent, Basic Instinct was a breath-through film for Ms Stone, whose pantie-less interrogation went from iconic to cliched in a decade. Writer Joe Eszterhas and director Paul Verhoeven gained momentary eminence in Hollywood with their successful blend of girl-meets-boy with the brutality of a conscienceless killer in the sexy club scene.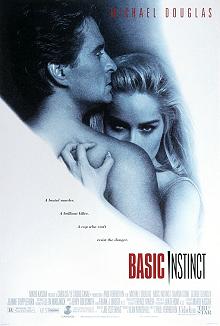 Ably supported by Jeanne Tripplehorn as the police psychologist with a past, and an unhealthy interest in detective Nick, and George Dzundza as Nick's older partner, the two leads dominate the screen in one of the most outrageous love stories in screen history.
Will they or won't they? is mixed with Is she or isn't she? as lives unravel around the lovely but amoral writer and her equally morally questionable investigator. Is there a happy ending for our street-crossed lovers?
by Ali Kayn
Australian release 14 May 1992
For credits and official site details, see below
Search Festivale for more work by the film-makers below.

See also:

for movie, TV show, or person

Film commentary and upcoming movie release dates at reel-life.info

Just the facts:

Title: Basic Instinct (1992)
Written by: Joe Eszterhas
Directed by: Paul Verhoeven
Running time: 127 mins
Rating: R

---

The Players: Sharon Stone, Michael Douglas, Jeanne Tripplehorn, George Dzundza

---

Official website:
IMDb entry

---

For session times of current films, use the cinema listings on the Movie links page. For scheduled release dates, see the coming attractions section.

For more information about this movie, check out the internet movie database.
For the latest additions to Festivale, check out the change history section.