A Reel Life film section
Issue: Winter 2010
The Love Letter (1999) movie review
The Written Love

A typed, unaddressed and unsigned love letter touches the lives of each person who finds it, triggering changes to relationships as misunderstandings ensue.
Helen (Kate Capshaw) is a strong divorcee who runs the bookshop in Loblolly by the Sea. She finds her determination to hold herself aloof challenged by the content of the love letter she discovers. One night, mistaking an young employee (Tom Everett Scott) for the letter writer, she drops her guard and finds herself in a 'very French' affair.
Meanwhile, life-long friend George is trying to kindle a romance with her.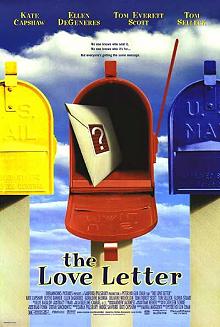 The Love Letter is a small-scale film set in a small town. It is a film about the human heart, of friendships and love, and the difficulties that we can encounter trying to manage either of these things.
This is an unchallenging film, it doesn't make the audience think, it's simply a quaint little story about a group of people trying to make contact. It is a universal subject, but not a sweeping one.
The Love Letter
is well-enough paced and characterised to hold the interest without being compelling. Watchable, but not a must-see.
by Ali Kayn
Australian release 10 February 2000
For credits and official site details, see below
Search Festivale for more work by the film-makers below.

See also:

for movie, TV show, or person

Film commentary and upcoming movie release dates at reel-life.info

Just the facts:

Title: The Love Letter (1999)
Written by: Cathleen Schine (novel), Maria Maggenti (screenplay)
Directed by: Peter Chan
Running time: 88 mins
Rating: M

---

The Players: Kate Capshaw, Tom Selleck, Tom Everett Scott, Blythe Danner, Ellen DeGeneres, Julianne Nicholson, Geraldine McEwan

---

Official website:
IMDb entry

---

For session times of current films, use the cinema listings on the Movie links page. For scheduled release dates, see the coming attractions section.

For more information about this movie, check out the internet movie database.
For the latest additions to Festivale, check out the change history section.