A Reel Life film section
Sept, 1998
The Mask of Zorro (1998) movie review
Zorro - The Next Generation
In the American tradition, there are few noble warrior-heroes. Don Diego, the effete dandified nobleman who at night garbed himself as the daring protector of the people, is that rare combination of an American hero with class, style, and fighting skill.
In this reworking of the Zorro story, produced by Steven Spielberg, the new Zorro, trained by the master, is a peasant. Alejandro (Antonio Banderas) and his brother as children save Zorro (Antony Hopkins) from a trap, and for which they receive a medallion. Zorro returns home to his wife and child only to be captured by his nemesis, Montero (Stuart Wilson). In the melee his wife is killed and his daughter seized by his enemy.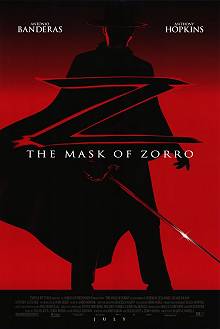 Twenty years later Zorro escapes from jail in time to witness Montero's return from Spain with the now-grown Elena (Catherine Zeta Jones), who has raised to believe that she is Montero's own daughter.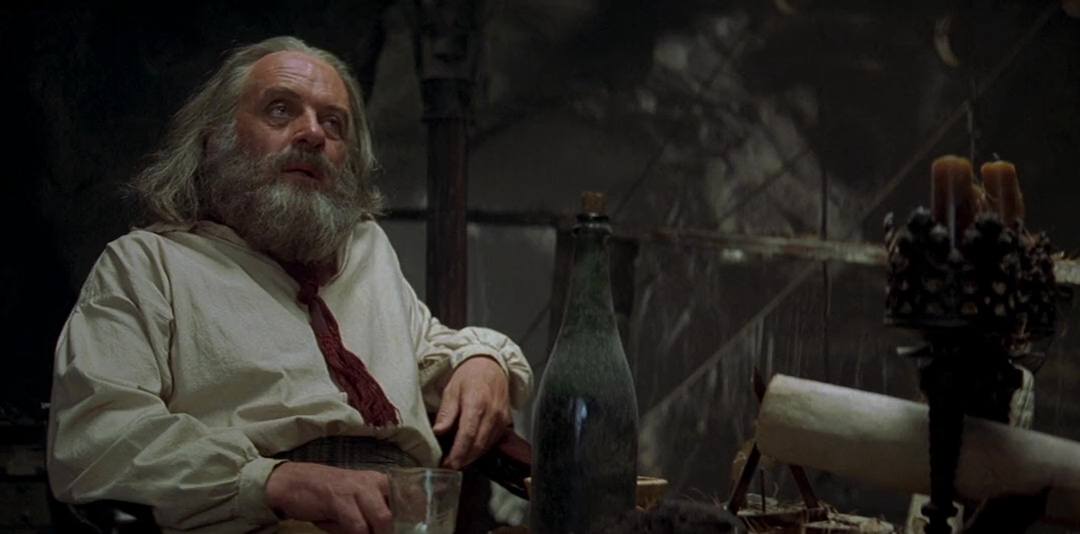 By changing the hero from a nobleman to a common man, the filmmakers may be 'modernising' the hero, making him more politically correct, but it loses an important message that was behind both the Zorro and Robin Hood legends. Nobless Oblige: the nobility has obligations. Privilege brings with it responsibilities, a credo which the new nobility -- wealthy business people, political tycoons, and the Hollywood glitterati. Deleting that message takes away another group's responsibilities.
The Mask of Zorro gives the actors a chance to show some traditional skills -- not just acting, but also the physicality of wielding swords, and in the case of Banderas and Zeta Jones, dancing.
The music has a wonderful percussive Spanish flavour, the crowd scenes and locations demonstrate the scale that movies can have, something television and the stage can't approach. I wish, however, that Speilberg hadn't decided to 'modernise' Zorro by taking away his trademark moustaches, a clean shaven man just doesn't have the same panache.
The story is your standard hero-adventure, with humour that is broader at the beginning that the end, and a structure that carefully bookends the careers of two generations of Zorro.
Not a must-see film, but an interesting demonstration of applied movie making techniques.
Share

by Ali Kayn
Due for Australian release 1998
For credits and official site details, see below
Search Festivale for more work by the film-makers below.

See also: The Legend of Zorro
Anthony Hopkins also appears in Amistad, The Edge, Meet Joe Black, Titus, Instinct,
Catherine Zeta Jones also appears in Entrapment, High Fidelity, The Haunting
Antonio Banderas also appears in

for movie, TV show, or person

Film commentary and upcoming movie release dates at reel-life.info

Just the facts:

Title: The Mask of Zorro (1998)
Written by: Terry Rossio & Ted Elliott and John Eskow  
Directed by: Martin Campbell  
Produced by: Doug Claybourne; David Foster; Lucas Foster; Laurie MacDonald (executive); Walter F. Parkes (executive); Steven Spielberg (executive)
Edited by:  Thom Noble
Director of Photography: Phil Meheux

---

The Players: Antonio Banderas .... Alejandro Murietta/Zorro
Anthony Hopkins .... Don Diego de la Vega/Older Zorro
Stuart Wilson .... Raphael Montero
Catherine Zeta Jones .... Elena de la Vega


---

Official website: Official website
IMDb entry

---

For session times of current films, use the cinema listings on the Movie links page. For scheduled release dates, see the coming attractions section.

For more information about this movie, check out the internet movie database.
For the latest additions to Festivale, check out the change history section.