Lock, Stock and Two Smoking Barrels
This is the film I expected to see from all the hoopla about Quentin Tarantino. It is a stylish, witty, hip, young, Nineties caper film. You have to hand it to the British, when they hit their form, nobody does it better.
Lock, Stock and Two Smoking Barrels starts when a group of friends of varying honesty raise 100,000 pounds for a high-stakes poker game, they think their problems are history. Eddie (Rick Moran) is a master at reading people, and his friends expect him to bring them back their fortunes, unfortunately his father (Sting) has a pub that Hatchet harry (P. J. Moriarty) wants and a clever bit of technical cheating sends Eddie and his friends 500,000 pounds in debt to one of the nastiest pieces of work around.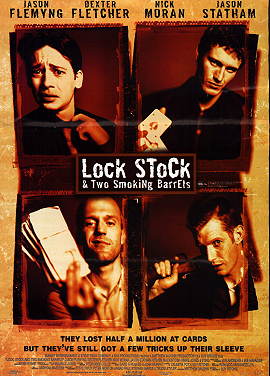 Movie Poster, Lock, Stock & Two Smoking Barrels