The film becomes with an excellent computer zoom in to New York, and slickly swaps into 'real life' in time to see our Kathleen slyly awaiting her luddite journalist boyfriend's departure so that she can log on and see the message 'You've Got Mail'. Across town, Fox's girlfriend, a publisher who "makes coffee nervous" leaves for the day freeing Joe to log on for his own e-mail run.

As they begin their respective days, bypassing one another in the street unbeknownst, we hear their messages in voiceover.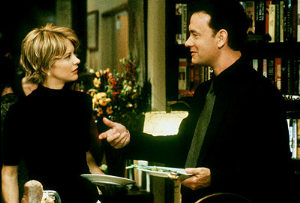 Movie still, Meg Ryan and Tom Hanks in You've Got Mail
Soon, Fox opens a store opposite Kathleen's store and a battle ensures, one where Fox is unknowlingly providing Kathleen with advice on how to fight his own onslaught.
An unabased comedy romance with well-drawn characters speaking deadpan ironic lines, all with Ephron's expert touch.