A Reel Life film section
Issue: 2010
A Fish Called Wanda (1988) movie review
Best of British

It was an immaculately-performed robbery of a jewellery house in London. The gang make off in a waiting car driven by a mustachioed driver. But all too soon the cops are at the door.
The boss Georges is taken into custody and he knows that things will go better for him if he hands over the loot, but who has the loot, where is it? In a game of cross and double cross, his girlfriend Wanda (Jamie Lee Curtis) and her lover Otto (Kevin Kline) must trick Georges' faithful, stuttering, goldfish-loving sidekick Ken (Michael Palin) into revealing the real location of the loot.
Meanwhile there is an elderly woman who saw Georges' face and who must be silenced -- a task set for Ken, which Otto bets he is unable to perform.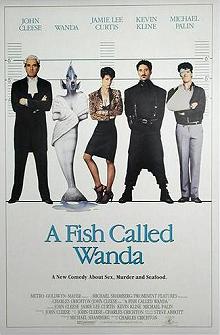 As a backup plan, Wanda decides to seduce Georges' barrister, the apparently staid Archie Leach (John Cleese), which set the jealous Otto to take extreme measures.
Part caper film and part romantic comedy, A Fish Called Wanda is British comedy at its best -- clever, witty and little crazy.
by Ali Kayn
Australian release 1988
For credits and official site details, see below
Search Festivale for more work by the film-makers below.

for movie, TV show, or person

Film commentary and upcoming movie release dates at reel-life.info

Just the facts:

Title: A Fish Called Wanda (1988)
Written by: John Cleese (story, scr) and Charles Crichton (story)
Directed by: Charles Crichton & John Cleese (uncredited)
Running time: 108 mins
Rating: M

---

The Players: John Cleese; Jamie Lee Curtis; Kevin Kline; Michael Palin

---

Official website:
IMDb entry

---

For session times of current films, use the cinema listings on the Movie links page. For scheduled release dates, see the coming attractions section.

For more information about this movie, check out the internet movie database.
For the latest additions to Festivale, check out the change history section.