A Reel Life film section
Issue: 2004
Switching Channels (1988) movie review
Hildy Johnson, the star reporter who wants out in the play The Front Page (Ben Hecht and Charles MacArthur) has been played by Jack Lemmon, with Walter Matthau as his ethics-free editor; by Pat O'Brien (against Adolphe Menjou), by Rosalid Russell with Cary Grant as both editor and ex-husband (in His Girl Friday); and now by Kathleen Turner with the untrustworthy editor and ex-husband played by Burt Reynolds.
In this incarnation of the script, the renamed Christy Colleran is an overworked cable news anchor and reporter who cracks up on tv and is sent to a quiet lakeside retreat where she meets the handsome, polished proto-metrosexual Blaine Bingham (Christopher Reeve) and decides to marry him and move to morning shows.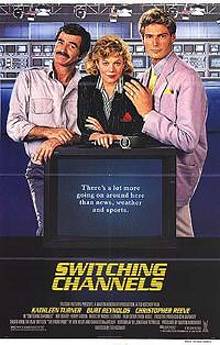 Whatever is editor John L. Sullivan IV to do? He can't afford to lose his star reporter. He might even miss his ex-wife. And so the machinations begin. No trick is missed in his campaign to undermine Blaine and to win back Christy.
As with previous versions, the backdrop is Chicago politics and the impending politically-motivated execution of a convicted murderer. Switching Channels, like its predecessors, is a satire on the working press, politics, the criminal justice system, and the tangled relationships between men and women.
Well-paced, interesting and amusing, played to the hilt, but no further by its cast.
by Ali Kayn
Australian release 1988
For credits and official site details, see below
Search Festivale for more work by the film-makers below.

See also:

for movie, TV show, or person

Film commentary and upcoming movie release dates at reel-life.info

Just the facts:

Title: Switching Channels (1988)
Written by: Ben Hecht and Charles MacArthur (play "The Front Page"), Jonathan Reynolds (screenplay)
Directed by: Ted Kotcheff
running time: 105 mins
rating: PG

---

The Players: Kathleen Turner, Burt Reynolds, Ned Beatty, Charles Kimbrough,

---

Official website:
IMDb entry

---

For session times of current films, use the cinema listings on the Movie links page. For scheduled release dates, see the coming attractions section.

For more information about this movie, check out the internet movie database.
For the latest additions to Festivale, check out the change history section.