A Reel Life film section
Issue: Winter 2000
Keeping the Faith movie review
A priest walks into a bar... he starts to tell the story of three best friends who grew up to be a priest, a rabbi, and a female corporate executive.
Rabbi Jake Schram (Ben Stiller) and Father Brian Finn (Edward Norton) are the god squad. A couple of leather-coated, hip, crowd-pleasing purveyors of faith. Don't change that dial! This is a film that doesn't require one to be a believer. It is about friendship and love, and having faith in one's friends -- and it tells the story well.
When Anna Riley (Jennifer Elfman) returns to New York, and walks back into their lives, she is both a part of the 'three musketeers' and a potentially divisive force. She leads both men to question themselves and what is important to them.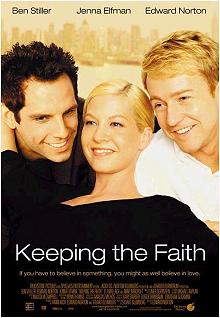 Along the way Keeping the Faith is filled with excellent performances, some large, and some small. Lisa Edelstein and Rena Sofer play two of the many single women being thrown in the way of the single rabbi Jake. Holland Taylor plays that fearsome creature -- a Jewish matchmaking mama. Eli Wallach and Milos Forman get to be mentors for Jake and Brian respectively. And stealing the show whenever she is on screen is the ever-wonderful Anne Bancroft as Jake's mother and Anna's confidant.
This is a wonderful film. It is well-performed, well-paced, amusing, thoughtful, filled with love and a touch of angst, and very, very human.
Well worth the time.
by Ali Kayn
Due for Australian release 8 June 2000
For credits and official site details, see below
Search Festivale for more work by the film-makers below.

See also:

for movie, TV show, or person

Film commentary and upcoming movie release dates at reel-life.info

Just the facts:

Title: Keeping the Faith (2000)
Written by: Stuart Blumberg
Directed by: Edward Norton running time: 128 mins

---

The Players: Edward Norton, Ben Stiller, Jenna Elfman, Anne Bancroft, Eli Wallach, Ron Rifkin, Milos Forman, Holland Taylor, Lisa Edelstein, Rena Sofer

---

Official website:
IMDb entry

---

For session times of current films, use the cinema listings on the Movie links page. For scheduled release dates, see the coming attractions section.

For more information about this movie, check out the internet movie database.
For the latest additions to Festivale, check out the change history section.