A Reel Life film section
Issue: Summer 2001-2
The One(2001) movie review
Gabe Law (Jet Li), a happily-married cop is getting stronger as he ages, unbelievably stronger. Unbeknownst to him, there are multiple universes, many with their own version of himself (as well as almost everyone else). According to The One's science fictional premise, when one version dies, the 'power' of the individual is distributed amongst the other versions. Lawless, a criminal version has discovered this and is travelling between the realities killing 'himself' off.
Lawless is aided by a version of Law's wife (Carla Gugino), and hunted by multiverse agents.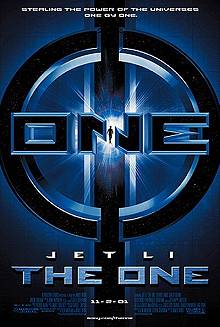 The One is a product of writing/direction team Glen Morgan and James Wong whose stories have appeared in series such as X-Files, Millennium, and Space Above and Beyond, which lifts this tale above the usual thin sf premise over a martial arts film.
With Jet Li in the lead, we know there are going to be acrobatic fight scenes, in this case, with himself. Being a science fiction (SF) film, it's going to be full of special effects, but the solid SF background of the writers gives the audience an actual story with actual characters who have slightly more than one dimensional motivations.
The result is interesting and watchable for SF and martial arts fans, although possibly a bit thin for those without a taste for action films.
by Ali Kayn
Due for Australian release 10 January 2002
For credits and official site details, see below
Search Festivale for more work by the film-makers below.

See also:

for movie, TV show, or person

Film commentary and upcoming movie release dates at reel-life.info

Just the facts:

Title: The One (2001)
Written by: Glen Morgan & James Wong
Directed by: James Wong

running time: 87 mins
Rating: M

---

The Players: Jet Li, Carla Gugino, Delroy Lindo, Jason Statham, James Morrison

---

Official website:
IMDb entry

---

For session times of current films, use the cinema listings on the Movie links page. For scheduled release dates, see the coming attractions section.

For more information about this movie, check out the internet movie database.
For the latest additions to Festivale, check out the change history section.