A Reel Life film section
Issue: Summer 2010-1
Love on the Side (2004) movie review
Love in a Small Town

Eve (Marla Sokoloff) is co-owner of a local diner where she waits on tables with the busty and outrageous Alma (Jennifer Tilly). Eve would like to lose 20 pounds (10 kilos) and win the heart of a local boy, her brother's best friend.
It seems like an impossible dream, although one she keeps making tentative steps towards, when a gorgeous blonde, Linda (Monika Schnarre), comes to town. To the boy's dismay Linda is more interested in spending time with Eve than with them.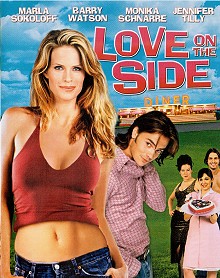 Love on the Side is a modern romantic comedy. It's small town setting makes it less glossy than the classic romantic comedy, however it has the grace to rely on situations rather than (gag) gags for its humour.
Not a film to set the world on fire, the writer, director and actors play their parts without trying to force the story to be more than it is -- a simple story about people looking for a happy ending. Kudos especially to Jennifer Tilly for her unashamed brassiness.
by Ali Kayn
Australian release 2004
For credits and official site details, see below
Search Festivale for more work by the film-makers below.

See also:

for movie, TV show, or person

Film commentary and upcoming movie release dates at reel-life.info

Just the facts:

Title: Love on the Side (2004)
Written by: Brigitte Talevski
Directed by: Vic Sarin
Running time: 102 mins
Rating: M

---

The Players: Marla Sokoloff, Jennifer Tilly ,Monika Schnarre, Jonathan Cherry, Barry Watson

---

Official website:
IMDb entry

---

For session times of current films, use the cinema listings on the Movie links page. For scheduled release dates, see the coming attractions section.

For more information about this movie, check out the internet movie database.
For the latest additions to Festivale, check out the change history section.