A Reel Life film section
Issue: Winter, 2005
Monster-in-Law (2005) movie review
Who's Your Mommy?

Life's too short to live the same day twice.
Viola (Jane Fonda) is having a little breakdown. After trying to strangle a brain-dead blonde bimbo singer who she was interviewing on her show, Viola is sent to a nice place to recuperate. She returns to the real world to discover that her son has found ANOTHER love of his life.
Charly (Jennifer Lopez) is a trained designer who works a range of part-time 'temp' jobs. She catches the eye of mommy's boy (a doctor) and while mommy is locked up and not making her insanely frequent calls and pages, Charly finds love. Re-enter mommy, just in time to be present at the proposal.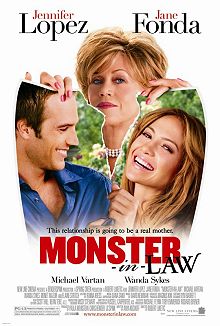 She met the perfect man. Then she met his mother.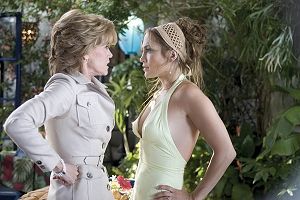 Let's go somewhere near the ocean and drink lunch
Don't beieve the tagline, a sado 30-something grown boy (Michael Varlan) who won't cut the cord from mommy, and who is automaticaly taking everything mom does as wonderful (especially her centring her emotional life on him) is NOT, NOT, NOT worth the attention of two otherwise bright and bold women.
For the purpose of this story, it's easiest for the writers to have him as a non-entity who triggers the conflict and then wavers about not helping the situation.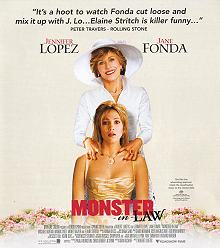 Well written, well timed with two unashamed comedic performances this return to the screen by one of the iconic comedienes of the American cinema is well worth a viewing.
The supporting cast do an excelent job, rising about the almost-ciche roles to give Charly's quirky world texture and heart. Elaine Stritch gets a chance to show off her famous legs in a walk-away-with-the-scenes performance, and watch out especially for the extraordinary Wanda Sykes as Ruby, the personal assistant.
Viola: It's just you and me, Ruby.
Ruby: Who'd I kill in a past life?
by Ali Kayn
Due for Australian release 21 July 2005
For credits and official site details, see below
Search Festivale for more work by the film-makers below.

See also:

for movie, TV show, or person

Film commentary and upcoming movie release dates at reel-life.info

Just the facts:

Title: Monster-in-Law (2005)
Written by: Anya Kochoff
Directed by: Robert Luketic
Running time: 101 mins
Rating: M

---

The Players: Jane Fonda, Jennifer Lopez, Michael Vartan, Wanda Sykes, Adam Scott, Annie Parisse

---

Official website:
IMDb entry

---

For session times of current films, use the cinema listings on the Movie links page. For scheduled release dates, see the coming attractions section.

For more information about this movie, check out the internet movie database.
For the latest additions to Festivale, check out the change history section.