A Reel Life film section
Issue: Spring 2005
Must Love Dogs movie review
Sarah (Diane Lane) is the divorced member of a large family who are staging an intervention. They each bring photos and contact numbers for available men. One sister goes so far as to put Sarah up on a singles web site, together with a college photograph and a fulsome biography. Jake (John Cusack) is a divorced boat-builder whose friend answers the ad for him, and despite themselves, Sarah and Jake meet.
Must Love Dogs is a tale of mature relationships in the 2000s. Sarah and Jake, Sarah and Bob, the father of one of her kindergarten students are not the only ones looking for companionship. Sarah's father (Christopher Plummer) discovers that the over-60 male is in great demand, and that much can be forgiven him.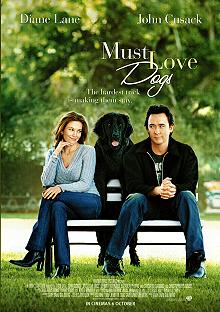 His ladies include the ever-wonderful Stockard Channing as Dolly, the trailer park-living lady with multiple online personalities.
The large family, Sarah's gay friends and Jake's amoral buddy all give the stumbling relationship of Sarah and Jake a rich background and remind us that no matter our preferences or relationships, we are all human and need to make an effort to find and keep companionship and love.
A delightful and undemanding film, very watchable.
by Ali Kayn
Due for Australian release 6 Oct 2005
For credits and official site details, see below
Search Festivale for more work by the film-makers below.

See also:

for movie, TV show, or person

Film commentary and upcoming movie release dates at reel-life.info

Just the facts:

Title: Must Love Dogs (2005)
Written by: Claire Cook (novel); Gary David Goldberg (scr)
Directed by: Gary David Goldberg
running time: 98 mins
rating: M

---

The Players: Diane Lane, John Cusack, Elizabeth Perkins, Christopher Plummer, Dermot Mulroney, Stockard Channing, Ali Hillis,

---

Official website:
IMDb entry

---

For session times of current films, use the cinema listings on the Movie links page. For scheduled release dates, see the coming attractions section.

For more information about this movie, check out the internet movie database.
For the latest additions to Festivale, check out the change history section.