A Reel Life film section
Issue: Winter 2006
My Super Ex-Girlfriend movie review
Man of Tissue, Woman of Steel
An average architect (Luke Wilson) with a history of disastrous relationships hits on a mousy girl who turns out to be a superhero in disguise (Uma Thurman). But history repeats itself and he breaks the relationship off only to be treated to pay-back, superhero-style.
From director Ivan Reitman (Ghost Busters, Evolution, Junior, Dave, Kindergarten Cop, Twins and more) comes one of the better American comedies. Reitman is justly famous for his comedies which rely on well-written, characterised scripts and genuine human actions for their humour, regardless of the fantastic nature of their premise.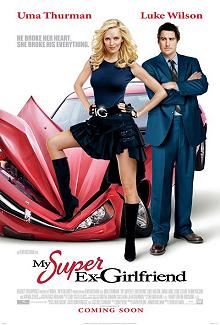 My Super Ex-girlfriend is the everyday story of a relationship gone bad. He's attracted to the wrong women, and she's a needy superhero. Well, okay, not every ex is a superhero, but it sometimes feels like it. This is the ultimate bad breakup. After the sexiness of winning the body of a superhero wears off, our hero discovers that there's more to life and love than getting a hot mate.
Meanwhile, he falls afoul of our superheroine's nemesis and high school friend (Eddie Izzard). Will Matt go to the dark side to rid himself of the girl of his nightmares? Will he win the heart of the girl in the next cubicle, and will that girl see past the hot male underwear model that she herself has landed?
Fast, fun and fantastic, a good solid laugh without any cheap tricks. Not deep, but highly recommended.
by Ali Kayn
Due for Australian release 20 July 2006
For credits and official site details, see below
Search Festivale for more work by the film-makers below.

See also:

for movie, TV show, or person

Film commentary and upcoming movie release dates at reel-life.info

Just the facts:

Title: My Super Ex-Girlfriend (2006)
Written by: Don Payne
Directed by: Ivan Reitman
running time: 95 mins
rating: M

---

The Players: Uma Thurman, Luke Wilson, Anna Faris, Rainn Wilson, Eddie Izzard, Wanda Sykes

---

Official website:
IMDb entry

---

For session times of current films, use the cinema listings on the Movie links page. For scheduled release dates, see the coming attractions section.

For more information about this movie, check out the internet movie database.
For the latest additions to Festivale, check out the change history section.