A Reel Life film section
Issue: Summer 2007-8
Angel movie review
Life of Dreams
Angel begins with sweeping overture music, a snowy period setting, and a rosy-cheeked girl with her face pressed between the railings opening to Paradise.
In a Dickensian period environment, young Angel indulges herself in her dreams of literary fame, happily sharing her fantasies of a better reality with others, whether they like it or not.
I've written a novel. ... I'm going to be a famous writer.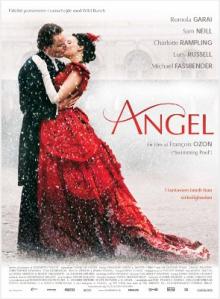 Within the first ten minutes Angel's demanding posturing alienates the audience, and the whimsical opening music is succeeded by a script that sweeps while the story stumbles on.
Arrogant, humourless and mannered, Angel succeeds despite herself, and without the good wishes of the audience.
Hard work.
by Ali Kayn
Due for Australian release 2007
For credits and official site details, see below
Search Festivale for more work by the film-makers below.

See also:

for movie, TV show, or person

Film commentary and upcoming movie release dates at reel-life.info

Just the facts:

Title: Angel (2007)
Written by: Caytha Jentis
Directed by: Richard Schenkman
running time: 134 mins
rating:

---

The Players: Vanessa Williams, Kevin Daniels, Michael Boatman, Eartha Kitt

---

Official website:
IMDb entry

---

For session times of current films, use the cinema listings on the Movie links page. For scheduled release dates, see the coming attractions section.

For more information about this movie, check out the internet movie database.
For the latest additions to Festivale, check out the change history section.