A Reel Life film section
Issue: Summer 2007
In Search of a Midnight Kiss (2007) movie review
Dreary Deadline

In black-and-white Los Angeles singles try to 'hook up' to kiss on New Year's Eve.
Even if you spend New Year's Eve alone and you feel sad, you can be grateful that you don't have to spend your year-end with any of the characters in this movie.
Don't get me wrong, I voted for the special circle of hell for people who colourise black-and-white films.
HOWEVER. In contemporary film-making, there are people who think that filming in black-and-white will give their film weight, that it will become WORTHY.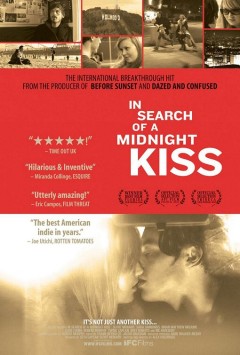 In short, Black-and-white is a bad sign. A black-and-white film with young characters who slip into Woody Allen dialogue is very student film.
In Search of a Midnight Kiss has all the hallmarks of a production stale out of film school. It gives the impression of a writer who heard "Write about what you know" and didn't listen to Hitchcock who said, "Drama is life with the dull bits cut out."
Spending time with tedious people doesn't get better just because they are on-screen. In fact it's worse. A story put up on the screen is a promise -- to be entertaining, to be worth the time, to add value to the audience's life by insights or humour or comfort. The only comfort of this film is knowing it will be over, and the hope it offers is that the makers will find successful and fulfilling futures in fast food industry.
by Ali Kayn
Due for Australian release 2007
For credits and official site details, see below
Search Festivale for more work by the film-makers below.

See also:

for movie, TV show, or person

Film commentary and upcoming movie release dates at reel-life.info

Just the facts:

Title: In Search of a Midnight Kiss (2007)
Written by: Alex Holdridge
Directed by: Alex Holdridge
Produced by:
Edited by: Frank Reynolds, Jacob Vaughan
Director of Photography: Robert Murphy
running time: 90 mins
Rating:

---

The Players: Scoot McNairy, Sara Simmonds

---

Official website:
IMDb entry

---

For session times of current films, use the cinema listings on the Movie links page. For scheduled release dates, see the coming attractions section.

For more information about this movie, check out the internet movie database.
For the latest additions to Festivale, check out the change history section.