A Reel Life film section
Issue: Summer 2006-7
Music and Lyrics movie review
Alex Fletcher (Hugh Grant) is a 1980s has-been. He survives on old royalties and doing a circuit of amusement parks and reunions. Now he has been given less than a week to write a new song from vacuous pop diva Cora (Haley Bennett) and he's found the perfect partner to write the lyrics - his plant lady Sophie Fisher (Drew Barrymore).
Music and Lyrics begins with a faux 1980s music video, a fun introduction to Alex Fletcher at his short-lived prime. Today he is riding high on his memories, but if Sophie can help him, he can restart his career as a singer/songwriter.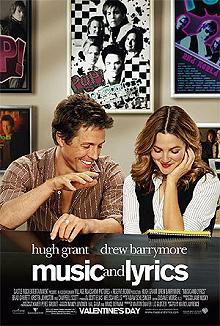 Sophie's dilemma is more complex. She is talkative, shatter-brained and starved of self-confidence. An ex-lover has written her into her best-selling novel, and not in a complimentary way. In order to get her to complete their song, Alex must convince her to rise about her eccentricities and self-doubt.
He is helped in this quest by her sister (Kristen Johnston) and his supportive manager. The result is a heart-warming voyage into love by two strangers, brought together to write a single song.
Not deep, but fun and satisfying.
by Ali Kayn
Due for Australian release 14 February 2007
For credits and official site details, see below
Search Festivale for more work by the film-makers below.

See also: Marc Lawrence also wrote Miss Congeniality

for movie, TV show, or person

Film commentary and upcoming movie release dates at reel-life.info

Just the facts:

Title: Music and Lyrics (2007)
Written by: Marc Lawrence
Directed by: Marc Lawrence
running time: 96 mins
rating: PG

---

The Players: Hugh Grant, Drew Barrymore, Scott Porter, Kristen Johnston

---

Official website:
IMDb entry

---

For session times of current films, use the cinema listings on the Movie links page. For scheduled release dates, see the coming attractions section.

For more information about this movie, check out the internet movie database.
For the latest additions to Festivale, check out the change history section.