A Reel Life film section
Issue: Winter 2007
No Reservations movie review
Therapist: Life is unpredictable.
Kate: Not in my kitchen
Kate is the perfectionist chef at an expensive restaurant whose life is suddenly changed.
When her sister dies, Kate becomes guardian of her niece Zoe (whose name means life). The restaurant owner brings in another chef to help our, Kate's sous chef taking the opportunity to give birth at this time. Enter Nick, a sous chef who embraces life enthusaistically and leads the kitchen staff in impromtu arias.
Nick and Zoe forge a friendship while each challenges Kate's priorities and way of life.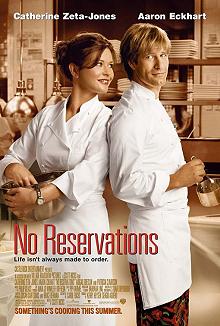 Something's Cooking This Summer
Despite the potential for melodrama, No Reservations is very nicely handled. Well written, and helmed by Scott Hicks who knows his way around this kind of material, it is a credible story of new lives and new loves.
by Ali Kayn
Due for Australian release 23 August 2007
For credits and official site details, see below
Search Festivale for more work by the film-makers below.

See also: Suddenly a parent movies:
Baby Boom ; Raising Helen;

for movie, TV show, or person

Film commentary and upcoming movie release dates at reel-life.info

Just the facts:

Title: No Reservations (2007)
Written by: Carol Fuchs(screenplay),Sandra Nettelbeck (screenplay "Mostly Martha")
Directed by: Scott Hicks
rating: PG
running time: 104 mins

---

The Players: Catherine Zeta-Jones, Aaron Eckhart, Patricia Clarkson, Bob Balaban, Abigail Breslin

---

Official website:
IMDb entry

---

For session times of current films, use the cinema listings on the Movie links page. For scheduled release dates, see the coming attractions section.

For more information about this movie, check out the internet movie database.
For the latest additions to Festivale, check out the change history section.