A Reel Life film section
Issue: Winter 2007
Ocean's 13 movie review
Danny Ocean rounds up the boys for a third heist, after casino owner Willy Bank double-crosses one of the original eleven, Reuben Tishkoff. (IMDb)
css recoding in progress
For credits and official site details, click here.
Search Festivale for more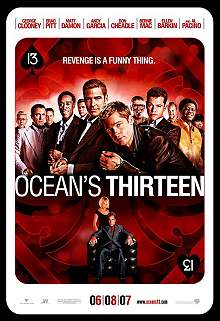 by Ali Kayn
Due for Australian release 14 June 2007
For credits and official site details, see below
Search Festivale for more work by the film-makers below.

See also:

for movie, TV show, or person

Film commentary and upcoming movie release dates at reel-life.info

Just the facts:

Title: Ocean's 13 (2007)
Written by: Brian Koppelman (written by) & David Levien (written by); George Clayton Johnson (characters) & Jack Golden Russell (characters)
Directed by: Steven Soderbergh
running time:

---

The Players: Brad Pitt, George Clooney, Matt Damon, Michael Mantell, Elliot Gould, Al Pacino, Casey Affleck, Carl Reiner, Ellen Barkin,

---

Official website:
IMDb entry

---

For session times of current films, use the cinema listings on the Movie links page. For scheduled release dates, see the coming attractions section.

For more information about this movie, check out the internet movie database.
For the latest additions to Festivale, check out the change history section.