A Reel Life film section
Issue: Autumn 2008
St Trinians (2007) movie review
Scandalous Schoolgirls
In this, the decade of the remake, part 2, we have yet another revisiting of past glories.
It seems that even moderately sucessful material is being rehashed by corporate film-makers. Excuse me, corporate product makers.
St Trinians in the black and white original was a series based on quirky cartoons. The films were surreal and loaded with sight gags as befitted their origins. The reflected a particularly British strain of humour.
The belles of St Trinians are back, updated with today's favourite campy actors and a new generation of law-breaking.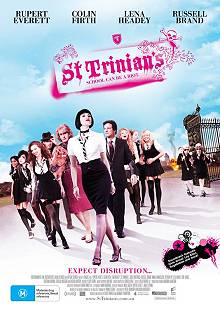 School can be a riot
The result is strained, over-long and schizophrenic. The film lacks focus and the high-tech robberies don't sit well with the low-brow humour. In the originals the thefts and misdemeanours were as low-tech and any other part of the students' lives. No surpise that the film has an over-abundance of directors and writers.
A waste of good actors and film stock. Sad really, nobody can touch the Brits at their comedic best. This film, however isn't close to their potentional.
by Ali Kayn
Due for Australian release 27 March 2008
For credits and official site details, see below
Search Festivale for more work by the film-makers below.

See also:

for movie, TV show, or person

Film commentary and upcoming movie release dates at reel-life.info

Just the facts:

Title: Saint Trinians (2007)
Written by: Piers Ashworth writer, Jamie Minoprio additional material, Nick Moorcroft writer, Ronald Searle cartoons, Jonathan M. Stern additional material
Directed by: Oliver Parker & Barnaby Thompson
running time:

---

The Players: Rupert Everett, Colin Firth, Stephen Fry,

---

Official website:
IMDb entry

---

For session times of current films, use the cinema listings on the Movie links page. For scheduled release dates, see the coming attractions section.

For more information about this movie, check out the internet movie database.
For the latest additions to Festivale, check out the change history section.