A Reel Life film section
Issue: Spring 2008
The Women (2008) movie review
Sisters Are Doin' It

From writer/director Diane English (creator of Murphy Brown) comes a remake of the ultimate film about women. Mary (Meg Ryan) is the ultimate people-pleaser, wife, mother, daughter, a designer for her father's firm who is a short space of days is fired by her father and loses her husband to the luscious perfume seller Crystal Allen (Eva Mendes). Mary's friends, family and staff all have their own agendas which occasionally support and otherwise aggravate Mary in her decision about whether to end her marriage.
The original 1939 movie was less kind to women, dealing with those 'ladies' who took their status and livelihood from their marriages and who filled their time with exercise, shopping and lunches.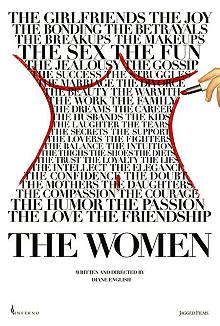 Today's women have careers, girlfriends (and GIRLfriends), and their relationships are therefore more complex. The Women deals not only with the trials of relationships with men, but also the relationships between women -- the friendships and support and the competition and willingness to put self above others.
Mary's best friend in the contemporary The Women is Sylvia Fowler (Annette Benning), not the destructress of the original, but a true long-time friend who opens her address book to Mary's charity work, and her heart to Mary's teenage daughter. The relationship between these two women is central to the film.
The daughter in this version is caught up in the modern desire to be beautiful like the artificial models in the pages of Fowler's magazine. The mother (Candace Bergen) is likewise concerned with her own surgically-rested features, although she takes the time to give her daughter advice. Bette Midler plays a modernised version as the much-married Leah Miller -- an actor's agent.
An all-star cast including Debra Messing, Jada Pinkett Smith, Carrie Fisher, Cloris Leachman, Debi Mazar and Joanna Gleason play their parts with gusto and great believability. All-in-all a very effective updating of a classic film. Hopefully Ms English will bring more stories to the big screen.
by Ali Kayn
Australian release 23 October 2008
For credits and official site details, see below
Search Festivale for more work by the film-makers below.

See also: The Women (1939)

for movie, TV show, or person

Film commentary and upcoming movie release dates at reel-life.info

Just the facts:

Title: The Women (2008)
Written by: Diane English (screenplay); Clare Boothe Luce (play); Anita Loos (1939 screenplay) and Jane Murfin (1939 screenplay)
Directed by: Diane English
Produced by: Diane English, Mick Jagger
Running time: 114 mins
Rating: PG

---

The Players: Meg Ryan ; Annette Bening; Eva Mendes ; Debra Messing; Jada Pinkett Smith; Bette Midler; Candice Bergen ; Carrie Fisher ; Cloris Leachman; Debi Mazar ; Joanna Gleason

---

Official website:
IMDb entry

---

For session times of current films, use the cinema listings on the Movie links page. For scheduled release dates, see the coming attractions section.

For more information about this movie, check out the internet movie database.
For the latest additions to Festivale, check out the change history section.