A Reel Life film section
Issue: Autumn 2008
Made of Honor movie review
My Best Friend's Wedding 2.0
Two best friends since college have enjoyed a platonic relationship. He found fortune young and has lived his life according to his own personal set of rules designed to keep women at a distance. She is the great women he loves to be with, all games and secrets and no rules. It's a perfect friendship until she goes to Scotland and returns with a great big Scot who just gets more and more unbelievable. And is about to get HER.
Suddenly the bride's best friend has to step up. But for what?
He is undermined by the rest of the bridal part while he in turn is setting out to undermine the groom and derail the wedding.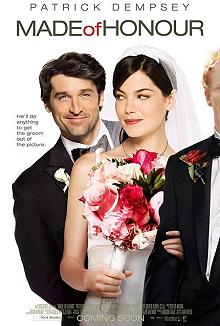 It takes a real man to become a maid of honour.
What should we, the audience, be cheering for? Which is the ideal couple?
Carefully crafted, Made of Honor (Made of Honour) navigates a tightrope between slapstick and situation comedy, between causing havoc and winning the girl. The scenes of male bonding over a basketball game balance the blokes making up baskets for the wedding shower.
The fun and games and the heartful heart-searching are well-paced and nicely paid off. The American rituals and the Scottish rituals are equally strange and somewhat embarrassing to watch, but whole-heartedly entered into by the cast.
All in all, a reasonable addition to the genre of romantic comedy, updated and sound.
by Ali Kayn
Due for Australian release 1 May 2008
For credits and official site details, see below
Search Festivale for more work by the film-makers below.

See also:

for movie, TV show, or person

Film commentary and upcoming movie release dates at reel-life.info

Just the facts:

Title: Made of Honor (2008)
Written by: Adam Sztykiel (screenplay) and Deborah Kaplan (screenplay) & Harry Elfont (screenplay) Adam Sztykiel (story)
Directed by: Paul Weiland
running time: 101 mins
rating: M

---

The Players: Patrick Dempsey; Michelle Monaghan ; Kevin McKidd; Kadeem Hardison; Kathleen Quinlan; Sydney Pollack;

---

Official website:
IMDb entry

---

For session times of current films, use the cinema listings on the Movie links page. For scheduled release dates, see the coming attractions section.

For more information about this movie, check out the internet movie database.
For the latest additions to Festivale, check out the change history section.