A Reel Life film section
Issue: Summer 2008-9
Thick as Thieves (2009) movie review
Master Thief: Lessons in Larceny
In a dashing robbery on a fast subway train, Gabriel (Banderas) steals from two Romanoff Jewellers couriers. Watching him in an older, well-dressed man (Morgan Freeman), a famous jewel thief named Ripley looking for a new partner to join him in the rarified Thieves World where debts are claimed from partners and children.
Despite the apparent impossibility of breaking into the vault of Romanoffs, and the apparent disapproval of the beautiful daughter (Radha Mitchell) of Ripley's ex-partner, Gabriel is drawn into Ripley's and Alexandra's world in Little Russia.
In the classic caper tradition the forces of law and out-law press the protagonist into committing the theft.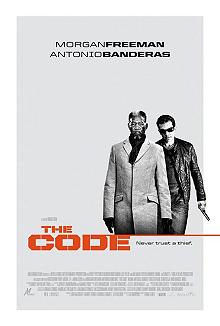 This story relies more on the human (and organisational) interactions than convoluted and high-tech action. Gadgets are tools, not stars.
Will the daring duo successfully steal the missing Faberge eggs? Will there be the inevitable cross-and-double-cross? What are the real motivations of the characters? Will there be a bad-guys-in-jail or a bad-guys-in-first-class ending? 92 minutes will tell.
by Ali Kayn
Due for U.S. release 17 April 2009
Due for U.K. release 16 February 2009
For credits and official site details, see below
Search Festivale for more work by the film-makers below.

See also:

for movie, TV show, or person

Film commentary and upcoming movie release dates at reel-life.info

Just the facts:

Title: Thick as Thieves (2009) a.k.a. The Code
Written by: Ted Humphrey
Directed by: Mimi Leder
running time: 92 mins

---

The Players: Antonio Banderas; Morgan Freeman; Radha Mitchell

---

Official website:
IMDb


---

For session times of current films, use the cinema listings on the Movie links page. For scheduled release dates, see the coming attractions section.

For more information about this movie, check out the internet movie database.
For the latest additions to Festivale, check out the change history section.