A Reel Life film section
Issue: 2010
Letters to Juliet (2010) movie review
Letters from Lovers

When aspiring magazine writer SOPHIA MARCUS and would-be restaurateur VICTOR fly from New York to Italy for a vacation, the stage seems set for some much needed romance in their relationship- especially since their destination is the city of Verona, home of the star crossed lover Juliet Capulet of Romeo And Juliet fame.
Letters to Juliet follows two relationships, Sophia and Victor on their 'pre-honeymoon' and the older woman Claire whose letter inspires Sophia to write to her.
Sophia and Victor are about to be married, yet in the romantic setting of Verona they are following their own paths, he is investigating local produce and she, left to her own devices, joins the secretaries of Juliet and then Claire and her grandson as they search the surrounding region for Claire's lost love.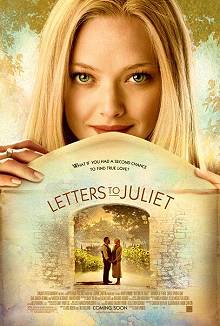 Letters to Juliet is an unabashed romance that concerns itself with the person as well as the romantic goals. As the trio travel Italy, Sophia, a fact-checker in New York, finds her voice as an author, and builds a friendship with the woman and grandson.
Victor steps in an out of the story, using punctuated by his trademark cry, "Win, win", which to him means, "I have what I want."
A beautiful setting and characters on a journey, this film takes us along for a short and undemanding while.
by Ali Kayn
Due for Australian release 13 May 2010
For credits and official site details, see below
Search Festivale for more work by the film-makers below.

See also:

for movie, TV show, or person

Film commentary and upcoming movie release dates at reel-life.info

Just the facts:

Title: Letters to Juliet (2010)
Written by: Jose Rivera (written by) and Tim Sullivan (written by)
Directed by: Gary Winick
Running time:
Rating: PG

---

The Players: Amanda Seyfried, Marcia DeBonis, Vanessa Redgrave, Gael Garc?a Bernal

---

Official website: http://www.letterstojuliet-movie.com/
IMDb entry

---

For session times of current films, use the cinema listings on the Movie links page. For scheduled release dates, see the coming attractions section.

For more information about this movie, check out the internet movie database.
For the latest additions to Festivale, check out the change history section.