A Reel Life film section
Issue: Autumn 2010
Valentine's Day (2010) movie review
Heart Felt

A collection of interlinked stories that celebrate love and loss on Valentine's Day brought to you by veteran directory Garry Marshall.
Reed is a florist on the florist's day of the year. He starts it with a proposal t his girlfriend only to discover later in the day she isn't wearing the ring.
He meets his best friend's boyfriend (Patrick Dempsey), buying flowers for her and his wife, how can he tell her? He meets a young boy in his friend's class who is buying flowers for the girl he loves. Meanwhile Sean Jackson (Eric Dane) is a sports hero without a team looking for answers while his PR consultant is throwing an anti-Valentine's Day party that no-one has RSVP'd to.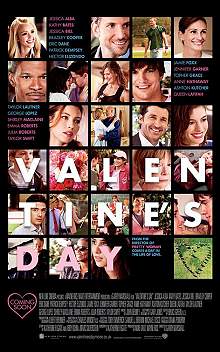 I surprised my husband once, now he's my ex-husband.
These anthology-type films can be effective if they are well-paced, well-characterised, and if they draw the skeins of the stories together for a satisfactory ending.
Garry Marshall is a master storyteller and this collection of love stories have us wondering, who will end the day with love intact, and who will be alone?
by Ali Kayn
Due for Australian release 11 Feb 2010
For credits and official site details, see below
Search Festivale for more work by the film-makers below.

See also:

for movie, TV show, or person

Film commentary and upcoming movie release dates at reel-life.info

Just the facts:

Title: Valentine's Day (2010)
Written by: Katherine Fugate (screenplay, story), Abby Kohn (story) & Marc Silverstein (story)
Directed by: Garry Marshall
Running time: 125 mins
Rating:

---

The Players: Jessica Alba, Kathy Bates, Jessica Biel, Patrick Dempsey, Hector Elizondo, Jamie Foxx, Jennifer Garner, Anne Hathaway, Shirley MacLaine

---

Official website: http://www.valentinesdaymovie.com
IMDb entry

---

For session times of current films, use the cinema listings on the Movie links page. For scheduled release dates, see the coming attractions section.

For more information about this movie, check out the internet movie database.
For the latest additions to Festivale, check out the change history section.