A Reel Life film section
Issue: Winter 2011
Conan the Barbarian (2011) movie review
Shallow Swordplay

This latest movie based on Robert E. Howard's mythical 1930s 'sword and sorcery' character, Conan the Barbarian, is a vibrant and violent tale of revenge and the lust for power.
Young Conan (impressively played by 13 year old Leo Howard), battle-born and raised on blood instead of mother's milk, swears vengeance on the psychotic warlord Khalar Zym (Stephen Lang) who slaughters Conan's father (Ron Perlman) and village to obtain the last piece of a powerful mask of dark magic. Years later, the barbarian warrior Conan (Jason Momoa) finally tracks down the evil Khalar Zym and his witch-daughter Marique (Rose McGowan) just as they are hot on the trail of Tamara (Rachel Nichols), a young female monk who happens to be the last 'pure blood' descendent of the sorcerers who created the mask . .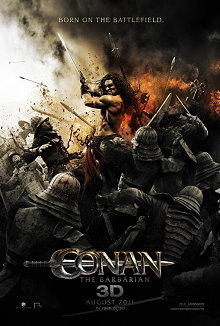 Those who are fans of the 'sword and sorcery' genre, and who like an action-packed, dialogue-light visual spectacle, will possibly enjoy this movie as it bounces from one epic fight scene to another. The numerous battle scenes are bloody and vicious, with swords cracking skulls and slashing throats, heads smashed with rocks, and fountains of blood. Jason Momoa as Conan is muscularly spectacular and makes a good fist of all the action, which is treated to that modern style of snappy editing to help convey the dynamism of battle.
The filmmakers have stated that their intent with this film is to inject some of the 'barbarian' back into Conan. But, as a result, the violence and frenetic pace is unrelenting, with quieter moments both brief and rare. I found myself yearning for some breathing space, longing for moments of reflection and subtlety that never came.
Sadly, with all the emphasis on battle and action, the film falls down on just about every other level. The plot is linear and predictable, the characters are barely one-dimensional and the dialogue is, for the most part, ordinary. Conan speaks only in short, deep, grunted sentences, saying things such as, "Woman, come here" (at which the audience laughed uproariously) or (when confronted with yet another party of adversaries) "A feast for my sword".
I think my biggest disappointment is the lack of sophistication and subtlety. Here was a chance for the filmmakers to completely subvert expectation, to explore the inner complexities of Conan, his world and the other key players; but instead we are treated to a hackneyed and cliched rendition of the evil overlord, the innocent-yet-feisty girl, the battle-hardened 'hero'.
Conan's primary motive of revenge comes to seem almost childish, and - while we may admire the efficiency of this killing machine - his callous attitude to violence and death makes him difficult to like or respect, particularly as we are never let inside. It's also hard to credit the lengths to which Khalar Zym goes in the desire to reanimate his dead sorceress wife. As for Tamara, the pawn in this battle, her calm acceptance of the rampant slaying and the relish with which she starts to contribute to the body count, seem inconsistent with her presumed past as a sheltered monk. While a feisty heroine is certainly desirable, she is perhaps a tad too competent.
It is, however, hard not to like Jason Momoa (Stargate Atlantis, Game of Thrones) as Conan, although the script doesn't do him any favours. Rose McGowan (Charmed) is also memorably sadistic as the evil sorceress Marique, and Ron Perlman (Hellboy ) as Conan's father offers perhaps the only subtlety and depth in the entire film. But for me Stephen Lang (Avatar) lacked impressiveness as the Primary Foe, Khalar Zym. I really could not understand how Conan didn't fell him in a single blow.
If you enjoy a violent fantastical spectacle, then go see Conan the Barbarian 2011, directed by Marcus Nispel (The Texas Chainsaw Massacre 2003 and Friday the 13th 2009). But if you want some depth and complexity, including multifaceted characters with believable motives, then maybe give it a miss.
Ellen Gregory
http://ellengregory.wordpress.com
Australian release 2011
For credits and official site details, see below
Search Festivale for more work by the film-makers below.

See also:

for movie, TV show, or person

Film commentary and upcoming movie release dates at reel-life.info

Just the facts:

Title: Conan the Barbarian (2011)
Written by: Thomas Dean Donnelly (written by) & Joshua Oppenheimer (written by) and Sean Hood (written by) Robert E. Howard (character of Conan)
Directed by: Marcus Nispel
Running time: 112 mins
Rating:

---

The Players: Jason Momoa, Stephen Lang, Ron Perlman, Rose McGowan

---

Official website: www.conanthebarbarianmovie.com.a u
IMDb entry

---

For session times of current films, use the cinema listings on the Movie links page. For scheduled release dates, see the coming attractions section.

For more information about this movie, check out the internet movie database.
For the latest additions to Festivale, check out the change history section.