A Reel Life film section
Issue: Winter 2011
Green Lantern (2011) movie review
A Glimmer of a Hero

Test pilot and dog-fighter-extraordinaire Hal Jordan is chosen to join an interstellar league of crime fighters who draw their power from the will of all the peoples of the universe.
Golly, when I saw that green shimmer of animation propel human Hal Jordan across the far reaches of space I must admit my jaw dropped. Could the premise really be that silly? Yep. The only thing sillier was the if-you-excuse-the-expression storyline.
Oh my ears and whiskers, there I was sitting there, wondering whether I was due for a dental appointment soon, or was it time to rotate the car tires? There were a few moments of genuine humour when the hero's friends discovered his secret identity but otherwise this is a budget looking for a good film to spend itself on.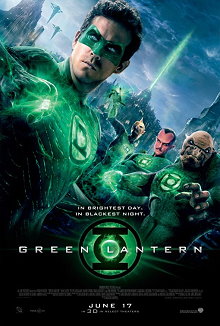 Strictly for the completists who want to see all the superhero films.
by Ali Kayn
Australian release 2011
For credits and official site details, see below
Search Festivale for more work by the film-makers below.

See also:

for movie, TV show, or person

Film commentary and upcoming movie release dates at reel-life.info

Just the facts:

Title: Green Lantern (2011)
Written by: Greg Berlanti (screenplay) & Michael Green (screenplay) & Marc Guggenheim (screenplay) and Michael Goldenberg (screenplay) Greg Berlanti (screen story) & Michael Green (screen story) & Marc Guggenheim (screen story)
Directed by: Martin Campbell
Running time: 114 mins
Rating: M

---

The Players: Ryan Reynolds, Melanie Hebert, Blake Lively, Tim Robbins, Jay O. Sanders, Angela Bassett

---

Official website: www.greenlanternmovie.com.au
IMDb entry

---

For session times of current films, use the cinema listings on the Movie links page. For scheduled release dates, see the coming attractions section.

For more information about this movie, check out the internet movie database.
For the latest additions to Festivale, check out the change history section.