A Reel Life film section
Issue: Winter, 2011
Red Dog (2011) movie review
Red Dog-a deceptively tall tail?

It is difficult to objectively untangle the Australian comedy-drama, Red Dog. On one level, it is an enchanting, funny and entertaining story of a mining community and how its members 'make good' in a particularly remote corner of Australia. The hero, naturally enough, is the resilient Australian spirit. On another level, it all seems too darn cute-there's a sense that we're being deceived. There are just too many sweeping panoramic vistas of the Pilbara, and too many cute romantic endings to each of the movie's mini-stories.
Red Dog is set in the early 1970s, and broadly tells the tale of a Kelpie cattle dog known as 'Red' or 'Red Dog'.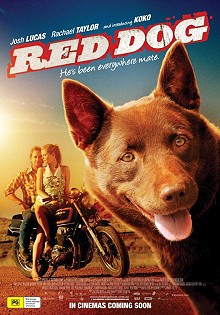 In the broadest sense, the movie tells the apparently true tale of Red Dog's wanderings about the Pilbara during the 1970s. In 1971, Red Dog arrives in the Port of Dampier in Australia's far North-West, wins the heart of the entire township then eventually chooses his 'owner'-the Port's ex-patriot American bus driver, John (played by Josh Lucas). John falls in love with beautiful new-arrival and Dampier site PA, Nancy (Rachael Taylor). John dies in a motorcycle accident, then Red Dog leaves town for some years, wandering around the Pilbara searching hopelessly for John. Red Dog returns to Dampier in the late 1970s to a hero's welcome, then dies tragically at John's graveside after eating a poisoned bait.
This simplistic tale is merely the movie's meta-theme. As Red Dog director, Kriv Stenders, has pointed out, the dog is merely a focal point for the towns-people to cinematically relate their own story of travel, work, life and love, and how Red Dog intersected with all this. Dampier is a remote Australian port town serving and closely linked to the mining communities of Tom Price and Paraburdoo. As a result, there are plenty of larger-than-life characters in the township and each has an unbelievable tale to tell.
This is the heart of Red Dog-it's really just a series of Australian 'yarns'. The sort of tall stories you might overhear-with one eyebrow raised-in any pub in outback Australia. Red Dog weaves together stories of love, tragedy and side-splitting, slapstick stupidity. As an Australian viewer, there is an immediate empathy with this sort of story-telling. Red Dog speaks our language; these are stories spoken in way we immediately understand and are charmed by. In the screening I attended, the audience laughed, cried, 'ooh'ed and 'aah'ed all on cue. So did I-I was enthralled and entertained.
Red Dog features breath-taking cinematography. The Pilbara region is stunning and Stenders has used it to full advantage. Equally, he has made great use of Australian 1970s pub rock classics for the movie's soundtrack-notably tracks from Daddy Cool, Rose Tattoo and The Dingoes
Yet for me, the movie seemed to be neither drama nor comedy-it flip-flopped uncomfortably between the two somehow. There was also a sense of deception in its portrayal of Dampier. That the movie's major sponsors included Rio Tinto and Woodside sat rather uncomfortably alongside the overtly romantic depiction of iron ore mining in Australia. No aborigines appeared in the movie, yet Dampier is the traditional home of the Yaburara and Ngarlumu tribes. The immigrant mine and port workers were all from Western Europe; there were no other ethnicities in the cast. And the lead male role was incongruously an American, who seemed entirely out of place in this setting
Finally, Red Dog might miss its advertised 'family movie' target. I took two eight-year-olds with me and they seemed bored during most of the movie. While the comic 'dog farting' and 'Red Dog vs Red Cat' fighting scenes engaged them, the balance of the movie was too romantic, complex and adult for younger children. Also, the movie's implied violence, sex and an attempted suicide weren't really appropriate for kids.
Red Dog's precision targeting of Australian hearts might well lead to its success, in much the same manner as Pricilla Queen of the Desert and Muriel's Wedding. Its lack of definition between 'comedy' and 'drama', and 'family' and 'adult', might ultimately bring it undone.