A Reel Life film section
Issue: Spring 2013
2 Guns(2013) movie review
Chase the Money

Two men sit in a diner arguing (Denzel Washington and Mark Wahlberg). They have the patter of long-time partners, willing to annoy one another for the amusement of seeing who will break first. One of them has just opened a safe deposit box at the bank. Oh, yes, we all know that gambit. Is this going to be a straight bank robbery movie, or a stylish caper movie?
2 Guns is a cross and double-cross action flick. It takes the rule "show it don't tell it" to mean fill the story with as much violent activity as possible.
Niceties such as characterisation and an intelligent plot fall by the wayside as our two protagonists alternatively chase and are chased through 109 minutes of shoot-em-up action.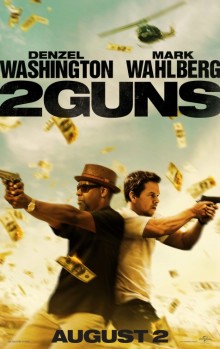 Who will be alive at the end of the film? Who are the good guys? Are there any good guys? The trouble with this kind of bleak film is that there is no-one worth cheering for. If you want music, guns and male posturing that won't tax your brain cells, this film is for you.
by Ali Kayn
Australian release 24 October 2013
For credits and official site details, see below
Search Festivale for more work by the film-makers below.

for movie, TV show, or person

Film commentary and upcoming movie release dates at reel-life.info

Just the facts:

Title: 2 Guns (2013)
Written by: Blake Masters (screenplay), Steven Grant (based on the Boom! Studios graphic novels by)
Directed by: Baltasar Kormakur
Running time: 109 mins
Rating: MA15+

---

The Players: Denzel Washington, Mark Wahlberg, Paula Patton, Bill Paxton, Fred Ward, Edward James Olmos

---

Official website:
IMDb entry</B>

---

For session times of current films, use the cinema listings on the Movie links page. For scheduled release dates, see the coming attractions section.

For more information about this movie, check out the internet movie database.
For the latest additions to Festivale, check out the change history section.