A Reel Life film section
Issue: Spring 2013
The East (2013) movie review
Corporate Spy Undercover

An operative for an elite private intelligence firm finds her priorities changing dramatically after she is tasked with infiltrating an anarchist group known for executing covert attacks upon major corporations. (source: IMDB)
Don't think from the above description that this is a glossy, hip film filled with high-tech gadgetry. This is a story about a company that makes its money protecting big business from ecoterrorists and the like.
The East is filled with mundane, sometimes peculiar moments. For example, the terrorists bond by donning straight-jackets and feeding one another with wooden spoons held in their mouths. Seriously?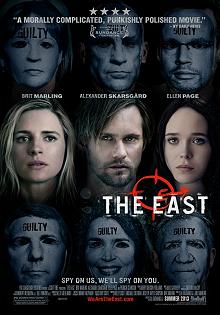 Too long, and it takes itself far too seriously to the detriment of the issues involved.