A Reel Life film section
Issue: Autumn 2014
Good Vibrations (2012) movie review
They Were the Best of Times, They Were the Worst of Times
There is something about a biopic that makes the viewer feel just a bit inadequate when the subject is unfamiliar. Good Vibrations is a film biography of Terri Hooley, a Belfast record shop owner and socialist-by-birth who became a lynchpin of the local punk movement, and an enthusiastic but largely unsuccessful record producer.
Hooley is presented as a man embarrassed at the thought of being a capitalist entrepreneur, and who therefore spends his life sabotaging himself and his businesses.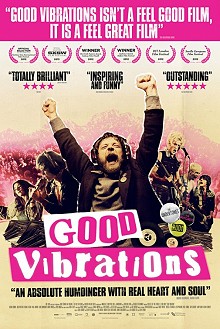 Although the punk movement was mad hair, razor blades and safety pins as jewellry, and, well, punks, the movement in Good Vibrations is presented in the context of the Troubles, the decades-long civil war that separated a country by religion and rapidly created a climate of fear and hatred with guns and bombs.
The punk movement crossed these boundaries and gave the youth a voice for their own rebellion. While New York had the haircuts, Belfast had the angst. The story of Terri Hooley, told in very human terms as the story of a likeable bloke, is also the tale of a period of Irish history that blighted generations. It is at once the story of a musical movement and a country in turmoil, told without hubris in an engaging manner that is accessible even to those who don't relate to the music.
by Ali Kayn
Australian release June 12 2014
For credits and official site details, see below
Search Festivale for more work by the film-makers below.

See also:

for movie, TV show, or person

Film commentary and upcoming movie release dates at reel-life.info

Just the facts:

Title: Good Vibrations (2012)
Written by: Glenn Patterson & Colin Carberry
Directed by: Lisa Barros D'Sa & Glenn Leyburn
Running time: 103 min
Rating:

---

The Players: Liam Cunningham, Jodie Whittaker

---

Official website:
IMDb entry

---

For session times of current films, use the cinema listings on the Movie links page. For scheduled release dates, see the coming attractions section.

For more information about this movie, check out the internet movie database.
For the latest additions to Festivale, check out the change history section.
For posts about Melbourne events, places, news, reviews, giveaways, see our Facebook Page: