A Reel Life film section
Issue: Autumn 2014
Need for Speed (2014) movie review
He's a Street Racer
Tobey Marshall (Aaron Paul) is the struggling-but-honest mechanic and driver who runs afoul of the nefarious Dino Brewster (Dominic Cooper).
Well, honest is a subjective term in this case because he's an illegal street racer in this celebration of fast cars and explosions. Tobey and his friends put it all on the line throughout the film, and Tobey ends up in jail for manslaughter when he, a friend, and Brewster race three street-illegal cars and Brewster clips the friend's car in an effort to win.
Fast forward a mere three years and Tobey is out and ready to take Brewster on again, but first he must race across the country to get to the starting line.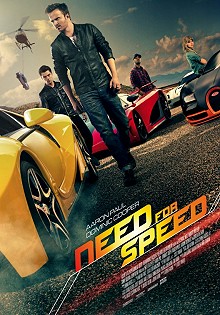 Altogether this is a find of car porn. A lot of high speed cars, explosions and crashes linked together by a flimsy plot line. The acting is better, led by Michael Keaton as a one-room character behind a microphone.
Need for Speed does try to rise above the sex-and-noise sells of some of its contemporaries. The love interests are platonic, and Imogen Poots gets to be behind the wheel for some of the high-speed hijinks.
Altogether, you get what you pay for, and this film is targetted well and truly at those who like to race cars from their sofas.
by Ali Kayn
Australian release 13 March 2014
For credits and official site details, see below
Search Festivale for more work by the film-makers below.
See also:

for movie, TV show, or person

Film commentary and upcoming movie release dates at reel-life.info

Just the facts:

Title: Need for Speed (2014)
Written by: George Gatins (scr); George Gatins & John Gatins (story)
Directed by: Scott Waugh
Running time: 132 mins
Rating:

---

The Players: Aaron Paul, Dominic Cooper, Imogen Poots, Michael Keaton

---

Official website: www.theneedforspeedmovie.com
IMDb entry

---

For session times of current films, use the cinema listings on the Movie links page. For scheduled release dates, see the coming attractions section.

For more information about this movie, check out the internet movie database.
For the latest additions to Festivale, check out the change history section.
For posts about Melbourne events, places, news, reviews, giveaways, see our Facebook Page: