A Reel Life film section
Issue: Winter 2014
Reaching for the Moon (2013) movie review
Flores Raras
Bioflicks are fraught with pitfalls. They are 'based on a true story', but not 'real'.
A biography has been filtered through the opinions and recollections of the tellers. An autobiography is filtered through memory and self-image. A biographical story has to comply with the needs of drama. Characters and events are retooled for good reasons and ill.
Reaching for the Moon in a story inspired by the life of Pulitzer Prize-winning poet Elizabeth Bishop (Miranda Otto). Bookended in New York, it is fundamentally the story of Bishop's relationship in Brazil with the wealthy architect Lota de Macedo Soares (Glória Pires).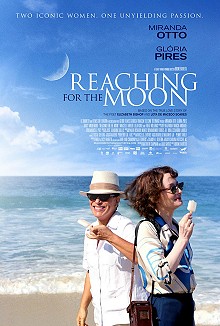 The story portrays the romantic triangle of three women, Bishop, her college friend Mary (Tracy Middendorf) and Mary's lover Lota whose affections Bishop won.
Unseen in the background is a military coup. More visible is Bishop's work and alcoholism.
Reaching for the Moon is a beautifully told story of the creative process and of relationships. The setting of Lota's estate is idyllic, the interactions of the women is mercifully free of histrionics and the portrayal of the literary process: pacing, booze, and feline friendship is matter of fact.
This film gives us a glimpse at the life of a major talent portraying her as flawed and troubled - which is a fashionable way to view the artist/writer.
It maintains its pace and sense of place with seeming ease and provides a pleasant chance to meet the woman behind the byline.
by Ali Kayn
Australian release 17 July 2014
For credits and official site details, see below
Search Festivale for more work by the film-makers below.
See also:

for movie, TV show, or person

Film commentary and upcoming movie release dates at reel-life.info

Just the facts:

Title: Reaching for the Moon (2013)
Written by: Matthew Chapman and Julie Sayres and Carolina Kotscho
Carmen L. Oliveira (based on the novel "Flores raras e banalíssimas" by)
Directed by: Bruno Barreto
Running time: 118 mins
Rating:

---

The Players: Glória Pires, Miranda Otto, Tracy Middendorf, Treat Williams

---

Official website: http://leapfrogfilms.com.au/reaching-for-the-moon/
IMDb entry

---

For session times of current films, use the cinema listings on the Movie links page. For scheduled release dates, see the coming attractions section.

For more information about this movie, check out the internet movie database.
For the latest additions to Festivale, check out the change history section.
For posts about Melbourne events, places, news, reviews, giveaways, see our Facebook Page: