A Reel Life film section
Issue: Spring 2014
A Thousand Times Good Night (2013) movie review
Conflicted Photographer
In a quiet mud-walled room a group of heavily muffled women are completing a religious ritual. Washing, praying, anointing, and cladding the novitiate with a bomb and trigger. With them is Rebecca (Juliette Binoche), a conflict photographer who watches and shoots.
In a foreign land filled with people on the hair-trigger of panic, and men with guns, Rebecca is the eternal audience, until she gets too close to the blast. Now, in a Dubai hospital she must face her husband (Nikolaj Coster-Waldau), and her own life.
Conflict is at the core of A Thousand Times Good Night. There is the moral conflict of the photographer who shoots but does not participate. Can she, should she, attempt to intervene? Do we have a right to see them? Or a responsibility? Does distance from horror give us a free pass from action?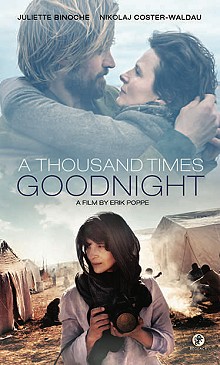 Back home in Ireland with her marine biologist husband, Rebecca is struck by the cost of her job to her family. They, her husband and her two daughters, live in fear that she will be killed.
A Thousand Times Good Night has layers of conflict. Rebecca is motivated by her anger and her conscience and her vision. Her family is motivated by love and pride. Her publisher is motivated by politics and the mechanics of getting the news.
Norwegian director (and screenwriter) Erik Poppe writes from experience, having covered war conflicts for many years. He draws together the many threads of the story and gives us a moving tale of family and calling and the conflict that can exist between them. His film is a journey into the peculiar world of the storyteller (be they writer, artist or photographer), a world where one is both part of the experience, and detached from it.
Rebecca is both part of the conflicts and apart from them, in danger, but emotionally involved only in capturing it. Later she will engage her anger in her attempts to get her images out into the world. She is part of her family and apart from it. She feels the pull of her love for them, and her concern for their safety, as well as the crying hunger of her art.
A Thousand Times Good Night offers the audience the best of filmic storytelling -- a simple story with layers to think about afterwards. It gives us an insight into the world's conflicts and into the troubled world of those who tell their stories.
Recommended.
by Ali Kayn
Australian release November 27 2014
For credits and official site details, see below
Search Festivale for more work by the film-makers below.
See also:

for movie, TV show, or person

Film commentary and upcoming movie release dates at reel-life.info

Just the facts:

Title: A Thousand Times Good Night (2013)
Written by: Erik Poppe & Harald Rosenløw-Eeg; Kirsten Sheridan (additional material)
Directed by: Erik Poppe
Running time: mins
Rating:

---

The Players: Juliette Binoche, Nikolaj Coster-Waldau, Lauryn Canny,

---

Official website:
IMDb entry

---

For session times of current films, use the cinema listings on the Movie links page. For scheduled release dates, see the coming attractions section.

For more information about this movie, check out the internet movie database.
For the latest additions to Festivale, check out the change history section.
For posts about Melbourne events, places, news, reviews, giveaways, see our Facebook Page: