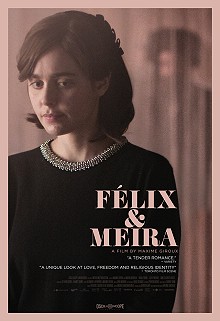 An orthodox Hasidic mother/wife meets a fallen Jewish bachelor in a kosher bakery and they fall in love. The simplified plot of Felix and Meira sounds at best like the story line of a Woody Allen romantic comedy, or at worst a politically incorrect joke. It's neither - it's possibly one of the best cinematic stories of self discovery I've ever seen, and Canada's wonderful Oscars entrant for 2015.
Director Maxime Giroux weaves an enthralling tale of the two main characters and the strange parallel between their lives: both are trapped in life trajectory that no longer 'fits', and both seek to fill an aching life void.
From here things are entirely contrastive-irresponsible and wealthy Felix (Martin Dubreuil) seeks structure form and purpose, and forgiveness from his deceased father; while Meira (Hadas Yaron) seeks liberty from her suffocating community and the scope to create artistically. Both see the realisation of their life aspiration in the other.
Felix and Meira is great for many reasons, but two stand out. Firstly Giroux maintains a strong hand on the movie's overall style and sense: it somehow presents as deliciously dream-like when exploring the two main characters' aspirations and romance, while concurrently presenting the reality of their respective lives as harsh and gritty. Giroux also allows some comedy in both character's dalliance's with life on 'the other side', but this is carefully managed. The movie never falls into the trap of laughing at the absurdity of the situation, or a soppy romance.
Secondly, Giroux uses wonderful symbolism to convey key messages: a mouse caught in a trap, Meira's Hasidic wig worn with her new jeans, Felix's father's ashes. The dialogue-in French, Yiddish and English-is minimalist, yet very powerful. At the movie's beginning Felix almost cries to Meira "I don't know what I am!". At it's end-with the couple in Venice and Felix holding Meira's crying baby-Meira asks "Where will we go?". Felix responds "We will find a place". Felix and Meira is a beautiful depiction of the search for that 'place'.
by Alan Anderson
Seen at the Jewish Film Festival
For credits and official site details, see below
Search Festivale for more work by the film-makers below.
See also:

for movie, TV show, or person

Film commentary and upcoming movie release dates at reel-life.info

Just the facts:

Title: Felix and Meira (Félix et Meira) (2014)
Written by: Maxime Giroux, Alexandre Laferriére
Directed by: Maxime Giroux
Running time: 105 mins
Rating:

---

The Players: Martin Dubreuil, Hadas Yaron, Luzer Twersky

---

Official website: www.felixandmeira.com
IMDb entry

---

For session times of current films, use the cinema listings on the Movie links page. For scheduled release dates, see the coming attractions section.

For more information about this movie, check out the internet movie database.
For the latest additions to Festivale, check out the change history section.
For posts about Melbourne events, places, news, reviews, giveaways, see our Facebook Page: