---
---
A Reel Life film section
Issue: Spring 2015
Now Add Honey (2015) movie review
Strident Strine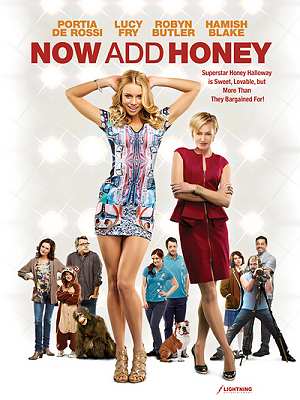 An ex patriot celebrity finds herself in the midst of her Australian extended family.
For some reason Australian film-makers, especially those who make 'comedies' feel that it is necessary to emphasis the strident in accents and performances.
Is this some attempt to create an Australian version of American brashness? Is it apologetic? Or is it their own particular brand of playing the clown for the rest of the world?
When Honey Halloway (Lucy Fry)'s mother is caught bringing drugs into Australia (for personal use only) she is sent to rehab. Honey is left to visit with her Australian relatives. Drama ensues.
It's a culture shock all around as Caroline Morgan (Robyn Butler) struggles to manage her own dysfunctional family and the introduction of a actor-celebrity used to constant pampering.
If you like formula family comedies, then this one is fairly effective, but you need to be willing to find physical and emotional slapstick amusing.
For posts about Melbourne events, places, news, reviews, giveaways, see our Facebook Page: