A Reel Life film section
Issue: Aurumn 2015
One-Eyed Girl (2014) movie review
In Search Of ...
A psychiatrist in a downward spiral is drawn into a cult in the South Australian hills.
Psychiatrists have psychiatrists. They need them. It has been suggested that listening to people talk about their problems and illnesses while in a receptive state can cause the psychiatrists (and other therapists) to take on those problems and illnessed.
When we meet Travis he is listening to person after person, and we see his reality drifting. After the death of a female patient, he loses touch and ends up on the floor of his apartment calling for help after a drug overdose.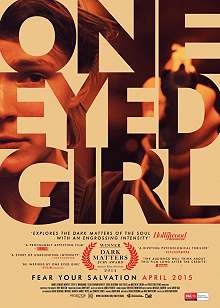 A young woman, Grace, hands him a brochure on a train, and leads him to a storefront preacher, and a farm in the hills where he detoxes.
We think of the United States more than Australia when we think of the cult of personality. Father Jay is very Australian, which is a bit disconcerting after seeing so many American cult leaders.
Travis questions and resists as the story winds to its inevitable conclusion.
There is a flatness in the delivery of the lines, and a distance from the audience that makes it difficult to really care about the characters in this film.
Touted as a dark, psychological thriller, The One-Eyed Girl winds along, thrill free, and expecting the audience to do the work in engagement.
Interesting, but not exceptional.
by Ali Kayn
Australian release 2 April 2015
For credits and official site details, see below
Search Festivale for more work by the film-makers below.
See also:

for movie, TV show, or person

Just the facts:

Title: One-Eyed Girl (2014)
Written by: Nick Matthews & Craig Behenna
Directed by: Nick Matthews
Running time: 102 mins
Rating: MA 15+

---

The Players: Mark Leonard Winter, Sara West,

---

Official website: www.oneeyedgirlthemovie.com
IMDb entry

---

For session times of current films, use the cinema listings on the Movie links page. For scheduled release dates, see the coming attractions section.

For more information about this movie, check out the internet movie database.
For the latest additions to Festivale, check out the change history section.
For posts about Melbourne events, places, news, reviews, giveaways, see our Facebook Page: