---
---
A Reel Life film section
Issue: Summer 2015-6
Concussion (2015) movie review
Hero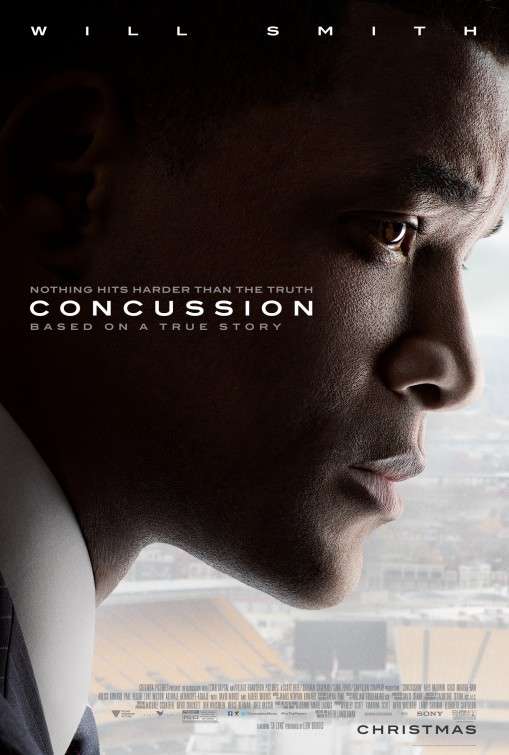 Based on the true David vs. Goliath story of American immigrant Dr. Bennet Omalu, the brilliant forensic neuropathologist who made the first discovery of CTE, a football-related brain trauma, in a pro player.
Concussion is about the scandal that surfaced when an outsider, an African-born pathologist, ascertained that the deaths of high profile American Football stars were ultimately the result of the brain damage they received when playing American Football at a National level.
The film stars Will Smith as Dr. Bennet Omalu, a Nigerian forensic pathologist who fought against efforts by the National Football League to suppress his research on chronic traumatic encephalopathy (CTE) brain damage suffered by professional football players.
It is a real life story and while I am sitting in the picture theatre watching it I am struck first by how Concussion is a perfect example of an American story that should be made for an American audience but which is sent all over the world because of the supremacy of the American Movie industry.
That was at first. Because what transpires in this artfully and politically astute drama in the hands of Peter Landesman, who directed and wrote the film, is a primer on the American mainstream ideological stand point when one of its bastions is assaulted with irrefutable evidence that the greed for violence and untrammelled excess has consequences. Quite extraordinary really.
Concussion almost simulates the game of American football itself with its ferocious blocking walls of concerted effort and individual finesse as the might of the NFL tries to unpick the almost naive belief that Dr Omalu and his wife have in the possibilities of American culture and the importance of standing up for the right thing.
So a film that could have been a trying piece of American self-reflection about a subject we in Australian may know little about turned out to be quite an interesting piece of social dissection. Smith does a good job at being an African (but of course I am not the right person to judge this not being African) and there is something interesting about this type of highly educated black person which is not common to American films.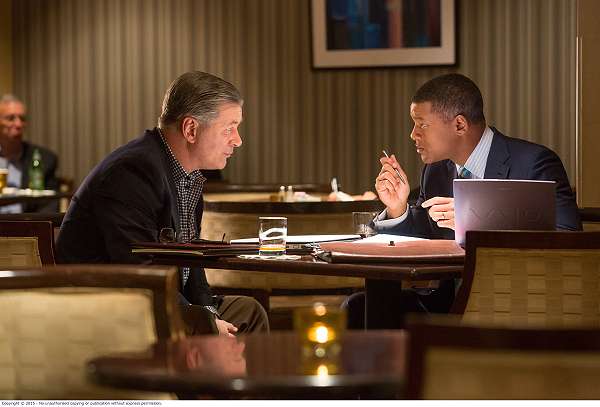 Alec Baldwin adds weight to the cast as the NFL doctor who sees the light and as I have already said the writer director is perhaps the leading light in this production.
Peter Landesman is an American film director, producer, screenwriter, journalist, novelist and painter. He wrote a number of cover stories for the New York Times Magazine, New Yorker, Atlantic Monthly and others, including investigations into global arms trafficking, sex trafficking, refugee trafficking, the Rwandan genocide, and the creation and smuggling of forged and stolen art and antiquities. He also reported from the conflicts in Kosovo, Rwanda, and Pakistan and Afghanistan post-9/11. He wrote and directed his debut 2013 film Parkland. He is not your common or garden type of director. He is a man with perspective on how culture and systems cause results.
Recommended
.
by Annie McLoughlin
Australian release 18 Feb 2016
For credits and official site details, see below
Search Festivale for more work by the film-makers below.
See also:

for movie, TV show, or person

Just the facts:

Title: Concussion (2015)
Written by: Peter Landesman (scr), Jeanne Marie Laskas (GQ article "Game Brain") (in part)
Directed by: Peter Landesman
Running time: 123 mins
Rating: M

---

The Players: Will Smith, Gugu Mbatha-Raw, Alec Baldwin, Stephen Moyer, Luke Wilson, Bitsie Tulloch

---

Official website: http://concussionmovie.com.au
IMDb entry

---

For session times of current films, use the cinema listings on the Movie links page. For scheduled release dates, see the coming attractions section.

For more information about this movie, check out the internet movie database (IMDb).
For the latest additions to Festivale, check out the change history section.
For posts about Melbourne events, places, news, reviews, giveaways, see our Facebook Page: