---
---
A Reel Life film section
Issue: April 2016
Cuffs Season 1 (2015) movie review
Brighton Cops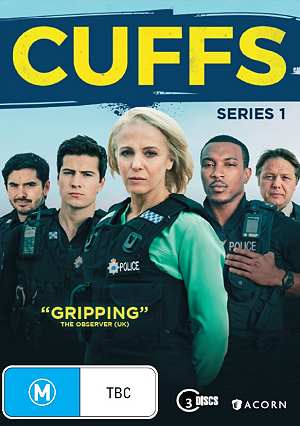 British television crime series about police based in Brighton, England.
There is something more human and real about British television series. They don't fill the screen with pretty-pretty people with glow-in-the-dark teeth, many far too young to fill their character's roles.
That said, the television series Cuffs has a more documentary feel than that of the glossier U.S. series. In some ways it is reminiscent of the early episodes of The Bill.
Cuffs is that contemporary blend of crime series and soap opera. It works with an ensemble cast, telling stories about plain clothes policing, street policing, and station-based issues.
Cuffs also emphasises the human element. The private lives and the interactions between the officers have equal weight in the episodes. Being British it has a mix of genders, backgrounds, and sexual preferences.
It's real people doing real jobs having real problems. Now out on DVD.
WIN A FREE COPY of SEASON 1 DVDs
a Rafflecopter giveaway
For posts about Melbourne events, places, news, reviews, giveaways, see our Facebook Page: