---
---
A Reel Life film section
Issue: Summer 2015-6
The Daughter (2015) movie review
Living With Secrets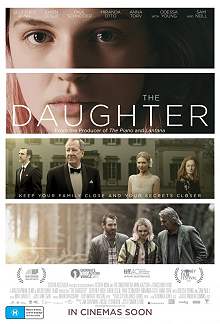 Based on the Ibsen play The Wild Duck, The Daughter is the story of crisis and the consequences of secrets.
When Christian (Paul Schneider) returns home for his father Henry's wedding, the rural Australian town is facing possible demise.
Henry (Geoffrey Rush) has just announced that he is closing the mill, and the workers and their families must look elsewhere for employment. The town has lost its main employer.
One of those unemployed is Oliver (Ewen Leslie), Christian's old friend. He opens his home to Christian, who meets Oliver's wife Charlottte (Miranda Otto) and daughter, Hedwig (Odessa Young), and is reunited with Oliver's father Walter (Sam Neill).
Set in a remote part of New South Wales (five hours drive from the city), the film is beautifully shot. The Daughter has a gentle realism, the director respects the characters and the landscape and gives the audience an opportunity to get to know the characters and their home without dragging his feet.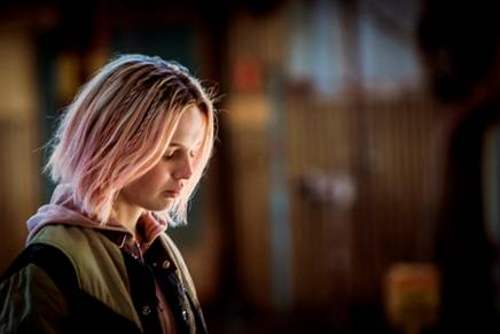 The writer/director, in this case Simon Stone, can give a film a unity of vision that is difficult when the director is interpreting the writing of another person.
The Daughter has a solid cast and their work has a naturalism that is very at home in the trees and hills of the Australian landscape. It is a testament to Ibsen that his story can be retold in another environment and retain its core of truth.
Well worth a look.
by Ali Kayn
Australian release 17 Mar 2016
For credits and official site details, see below
Search Festivale for more work by the film-makers below.
See also:

for movie, TV show, or person

Just the facts:

Title: The Daughter (2015)
Written by: Simon Stone
Directed by: Simon Stone
Running time: 96 mins
Rating: M

---

The Players: Geoffrey Rush, Sam Neill, Anna Torv, Miranda Otto, Odessa Young, Paul Schneider, Ewen Leslie

Official website: www.thedaughtermovie.com.au
IMDb entry

---

For session times of current films, use the cinema listings on the Movie links page. For scheduled release dates, see the coming attractions section.

For more information about this movie, check out the internet movie database (IMDb).
For the latest additions to Festivale, check out the change history section.
For posts about Melbourne events, places, news, reviews, giveaways, see our Facebook Page: