---
---
A Reel Life film section
Issue: Summer 2015-6
Hail Caesar (2016) movie review
Hollywood Handy Man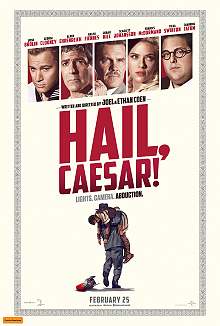 Set during the latter years of Hollywood's Golden Age, Hail, Caesar! follows a single day in the life of a studio fixer who is presented with plenty of problems to fix.
The Coen Brothers comedy Hail, Caesar! is unashamedly a film for film buffs and particularly film history buffs. Using an extremely fictionalised version of long time MGM 'fixer' Eddie Mannix as the Director of Physical Production for Capitol Pictures, Hail Caesar! gives us a mocking but affectionate look at the Hollywood film industry in the 1950s.
Josh Brolin's Mannix, a devout Catholic is ramrodding the studio's production slate from the pious biblical epic Hail, Caesar! starring none-too-bright and not too talented alcoholic womanizer Baird Whitlock (Clooney), a Gene Kelly style musical starring talented hoofer Burt Gurney (Tatum), the Esther Williams pastiche water ballet movie with pregnant and unmarried star DeAnna Moran (Johansson)and a sophisticated drawing room comedy in which singing cowboy Hobie Doyle (Ehrenreich) is hilariously miscast.
When Whitlock is kidnapped by a group of communist screenwriters and a ransom of $100,000 demanded, Mannix has to deal with the halted production of his biblical epic, the snooping of a pair of identical twin gossip columnists (Swinton), an offer by Lockheed to headhunt him for 'a more important industry' and the mystery of who is the mastermind behind the kidnapping.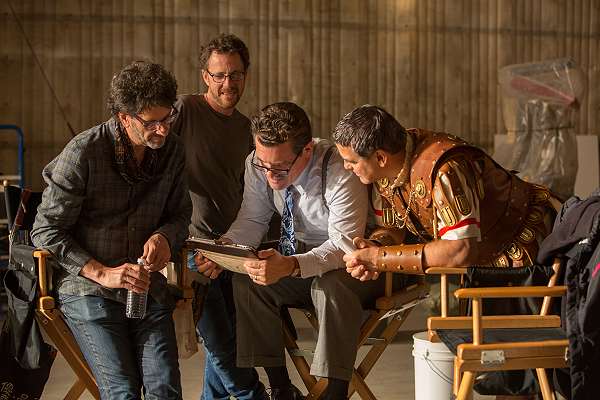 Hail, Caesar! is a movie that is funnier the more you know about Hollywood history. Like all Coen Brothers movies it doesn't pander to a mass audience but rewards close viewing in spite of some of the broadly comic moments. The parallel between the argumentative and didactic conspirators' explanation of how they insinuate communist propaganda into film scripts and the climactic speech of Whitlock's Roman centurion Autolycus is wryly presented. Even Autolycus' name is a joke. He's a Roman with a Greek name, highlighting the dubious historical accuracy of the epic.
This movie is the Coens at their most playful. Between Hobie trying to speak the sophisticated dialogue in a movie called Merrily We Dance, the homoerotic sailors in the "No Dames" musical number with Channing Tatum's Burt Gurney, the sharply observed bombast of Hail, Caesar! the movie within the movie with a pale blond Christ only seen from behind, the meeting with religious leaders to ensure that the script isn't offensive to anyone which goes off the rails very quickly, there's a lot of fun in this movie.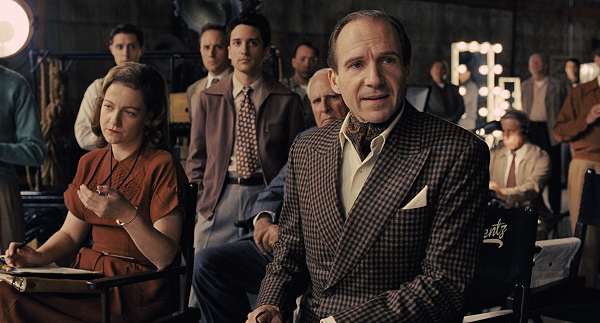 Clooney, in spite of his Cary Grant persona is always at his funniest when playing stupid characters. Ehrenreich's Hobie is the one character who stays true to himself. Even his date with the Carmen Miranda-like Carlotta Valdez (Veronica Osorio), which furthers the plot, is delightful, with Hobie making a lariat out of spaghetti to amuse Carlotta. Johansson's earthy DeAnna with her 'fish ass' mermaid tail and Busby Berkeley level kaleidoscopic water ballet gets a few great moments. Swinton's twin gossip columnists are both hilarious and dauntingly aggressive.
Brolin's Mannix, a brutal executive not adverse to slapping stars when they get out of line who is nonetheless a family man who frets about spending little time with his wife and kids, grounds the farcical elements of the movie. His presence gives a necessary contrast to the absurd plot twists, characters and events, highlighting them. He is the straight man supporting the more comic characters.
This movie is full of hilarious moments, best of all the brief scene between Mannix and the film editor C.C. Calhoun (McDormand) which takes place in a darkened, smoke-filled editing suite while they watch the dailies of Merrily We Dance. Check it out. It's one of the Coens' most accessible and entertaining movies.
by Terry Frost
Australian release 25 Feb 2016
For credits and official site details, see below
Search Festivale for more work by the film-makers below.
See also:

for movie, TV show, or person

Just the facts:

Title: Hail Caesar (2016)
Written by: Joel Coen & Ethan Coen
Directed by: Joel Coen & Ethan Coen
Running time: mins
Rating:

---

The Players: Josh Brolin as Eddie Mannix.
George Clooney as Baird Whitlock.
Alden Ehrenreich as Hobie Doyle.
Ralph Fiennes as Lawrence Lorentz.
Jonah Hill as Joseph Silverman.
Scarlett Johansson as DeAnna Moran.
Frances McDormand as C.C. Calhoun.
Tilda Swinton as Thora and Thessaly Thacker.
Channing Tatum as Burt Gurney.


---

Official website: http://www.hailcaesar.com.au/
IMDb entry

---

For session times of current films, use the cinema listings on the Movie links page. For scheduled release dates, see the coming attractions section.

For more information about this movie, check out the internet movie database (IMDb).
For the latest additions to Festivale, check out the change history section.
For posts about Melbourne events, places, news, reviews, giveaways, see our Facebook Page: