---
---
A Reel Life film section
Issue: Summer 2015-6
The Hateful Eight (2015) movie review
Bounty Price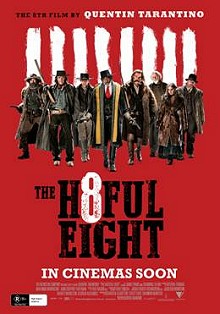 In post-Civil War Wyoming, bounty hunters try to find shelter during a blizzard but get involved in a plot of betrayal and deception. Will they survive?
It's winter in Wyoming after the Civil War, but men are still wearing bits of their blue or grey uniforms. Major Marquis Warren (Samuel L. Jackson) has hailed down a passing coach and found it has been hired by John (The Hangman) Ruth (Kurt Russell). By the time the coach reaches Minnie's Haberdashery it is loaded down with Warren's three dead captures, John's live and somewhat bloody captive (Jennifer Jason Leigh with an incredible morphing black eye) and the sheriff they were planning to deliver them to, Sheriff Chris Mannix (Walton Goggins).
You just know they are going to be snowbound by the approaching blizzard along with the Haberdashery's occupants.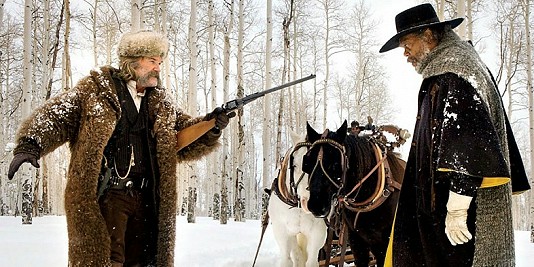 From the opening 'Overture' sequence, we also can guess that Tarantino is referencing the classic Westerns of the 1950s, but with a whole lot more potty-mouth.
The next three (count 'em) hours are filled with violence, bloodshed, deceit, suspicion, entrenched prejudices, and the remnants of hatred between the civil war adversaries.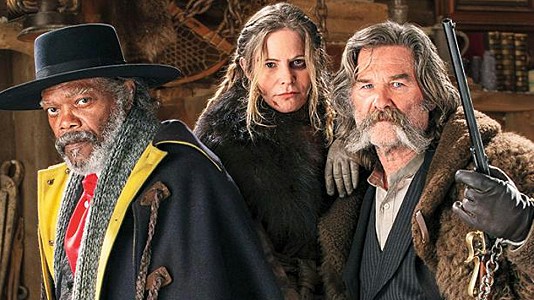 Tarantino is more than a bit in love with his camera and he tends to dwell on scenery and setup shots. There is no need for 187 minutes of the 70mm cut. There is plenty of scope for judicious trimming.
The Hateful Eight is a Tarantino vision, but it doesn't really bring any new insights to the western genre. This film is for western fans who don't mind a bit of ugly, bloody, brutality. Or for Tarantino fans who like his bloody take on stories.
Watch out for actor Bruce Dern as the confederate general. His whole performance is made from a chair in front of the fire.
by Ali Kayn
Australian release January 14 in 70mm at select locations and January 21 in digital wide release 2016 (Australia)
For credits and official site details, see below
Search Festivale for more work by the film-makers below.
See also:

for movie, TV show, or person

Just the facts:

Title: The Hateful Eight (2015)
Written by: Quentin Tarantino
Directed by: Quentin Tarantino
Running time: Digital - 167 mins 70mm 187 mins
Rating: R 18+

---

The Players: Samuel L. Jackson, Jennifer Jason Leigh,

---

Official website: http://thehatefuleight.com/
IMDb entry

---

For session times of current films, use the cinema listings on the Movie links page. For scheduled release dates, see the coming attractions section.

For more information about this movie, check out the internet movie database (IMDb).
For the latest additions to Festivale, check out the change history section.
For posts about Melbourne events, places, news, reviews, giveaways, see our Facebook Page: