---
---
A Reel Life film section
Issue: Autumn 2016
Independence Day Resurgence (3D) (2016) movie review
Again Invasion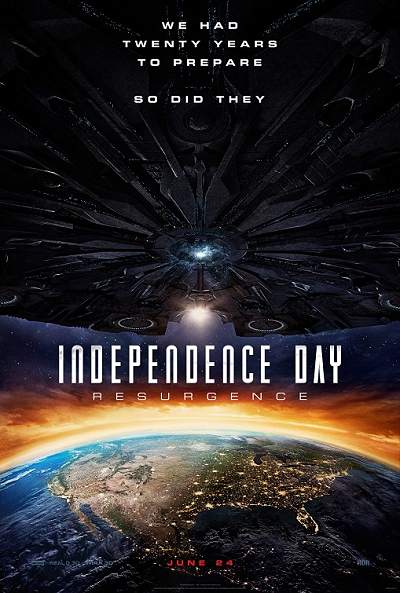 We always knew they were coming back. Using recovered alien technology, the nations of Earth have collaborated on an immense defense program to protect the planet. But nothing can prepare us for the aliens' advanced and unprecedented force. Only the ingenuity of a few brave men and women can bring our world back from the brink of extinction.
Richard and I saw this in 3D, so let's start with that. On the whole, the 3D was good, but rumour is they ran out of money in the CG budget, which might explain the ´copters. They were bizarre and always a shock to see. They were oddly shaped, too narrow, and never seemed to be in perspective or scale.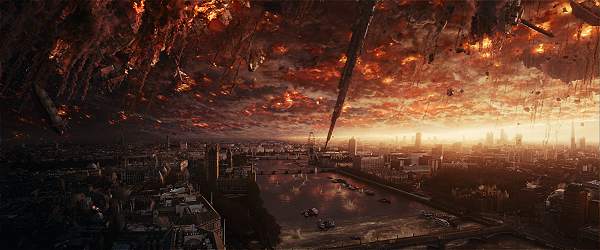 I am an unashamed closet spaceship SF geek. I love whiz bang tech, the rooms full of screens, the space ships and space tugs and moon bases. Throw in some character interactions and I´m there.
And let us not underestimate the appeal of Jeff Goldblum, looking good and still playing the understated comedic lines, Kevin Kline, as the ex president who literally gets out of his sick bed to answer the call, and the wonderful Sela Ward as the president.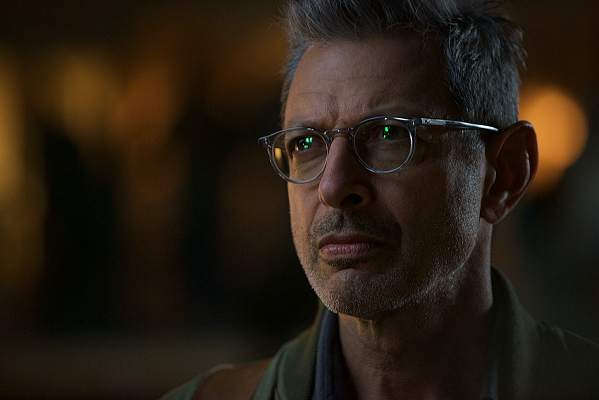 In this action film there are two generations fighting an alien invasion. Some of the younger generation are ´legacy´ squadron members, the descendants of the first fighters in 1994. I have trouble with the idea of a ´legacy´ squadron. I think it would be terrible for the morale of a military organisation to single out people because of their birth, not their performance.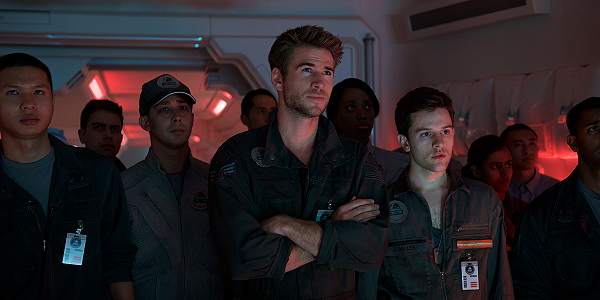 There is a bit of disagreement among reviewers and critics about this film. I found the balance between character moments and action moments worked well, and I´ll certainly addthis film to my collection when it comes out. It is true there is nothing groundbreaking about this film, but really, does every film have to startle us. Sometimes geeks just wanna have fun.
Facebook: facebook.com/IndependenceDayMovie
Website: http://www.foxmovies.com/movies/independence-day-resurgence
Twitter: IndependenceDay
Whoaa, geeks just wanna have fun!
by Ali Kayn
Australian release 23 June 2016
For credits and official site details, see below
Search Festivale for more work by the film-makers below.
See also:

for movie, TV show, or person

Just the facts:

Title: Independence Day Resurgence (3D) (2016)
Written by: Carter Blanchard (scr)
Directed by: Roland Emmerich
Running time: mins
Rating:

---

The Players: Jeff Goldblum, Bill Pullman,Maika Monroe, Joey King, Liam Hemsworth,, William Fichtner, Charlotte Gainsbourg, Vivica A. Fox, Sela Ward, Brent Spiner, Judd Hirsch,

---

Official website: http://www.foxmovies.com/movies/independence-day-resurgence
IMDb entry

---

For session times of current films, use the cinema listings on the Movie links page. For scheduled release dates, see the coming attractions section.

For more information about this movie, check out the internet movie database (IMDb).
For the latest additions to Festivale, check out the change history section.
For posts about Melbourne events, places, news, reviews, giveaways, see our Facebook Page: