---
---
A Reel Life film section
Issue: Autumn 2016
The Librarians Season 2 (2016) DVD review
Family Adventure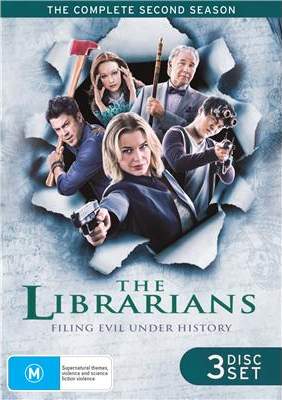 A group of young people use portals to recover ancient powerful artifacts.
I'd only ever seen the movies so was a little surprised to see that The Librarians had been made into a TV series.
Never having season 1, I wasn't sure what to expect with season 2, but I figured since there WAS a season 2 it must have been relatively successful.
I received the opportunity through Ali Kayn and Festivale Online Magazine to review this season via a streaming option from Icon Film Distributions website.
Watching the season, I was immediately reminded of Warehouse 13, but aimed for a younger audience. Interesting in its own right but vaguely odd.
The season at least had a story arc that was pretty well fleshed out and kept me watching to see how it panned put. The introduction of "fictional" characters as real people was an interesting idea and the explanation for some even better.
The season follows the return of the Library from some mysterious void, but not completely, as rooms are either missing or wandering. The introduction of Prospero and Moriarty as recurring villains was a bit of fun as well. The interaction between Moriarty and Eve and the decisions Eve has to make during the course of the story arc kept me watching.
Some plot elements were telegraphed and simplistic, but still, relatively interesting.
If you have the original movies and Season 1, quite probably a good addition to your collection.
by Richard Hryckiewicz
Australian release 23 March 2016
For credits and official site details, see below
Search Festivale for more work by the film-makers below.
See also:

for movie, TV show, or person

Just the facts:

Title: The Librarians Season 2 (2016)
Written by: John Rogers (developed by)
Directed by: various
Running time: 42 (episode) mins
Rating:

---

The Players: John Larroquette, Rebecca Romijin,Noah Wyle, Christian Kane, Lindy Booth, John Kim

---

Official website: https://www.facebook.com/TheLibrarians
IMDb entry

---

For session times of current films, use the cinema listings on the Movie links page. For scheduled release dates, see the coming attractions section.

For more information about this movie, check out the internet movie database (IMDb).
For the latest additions to Festivale, check out the change history section.
For posts about Melbourne events, places, news, reviews, giveaways, see our Facebook Page: