---
---
A Reel Life film section
Issue: Summer 2015-6
Little Dead Rotting Hood (2016) movie review
Fairy Tales for Older Kids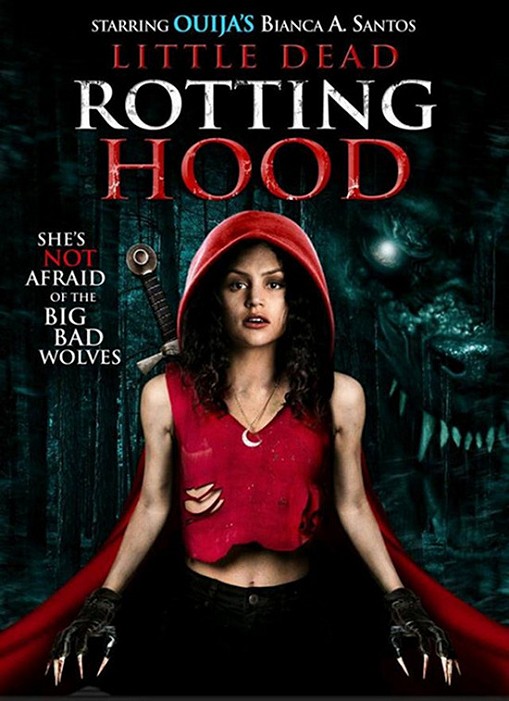 The residents of a small town discover that something more sinister than killer wolves is lurking in the backwoods: first the wolves start turning up dead...then people.
The reinvention of classic fairy tales seems to be something a lot of film makers are embracing, and though there is potential in that idea, most adaptions fail miserably.
Little Dead Rotting Hood is the story of a young woman (Bianca A. Santos) that gets mauled to death by a wolf and comes back as a zombified Red Riding Hood to save the town from being savaged by a pack of wolves that are menacing the deep dark forest.
The concept sounds appealing, right?
I have to give this film credit because the visuals are quite beautiful. It is incredibly well shot and had all the makings of being a good stand out (Asylum) film. However I feel most of the acting let it down, and the character of Samantha (Dead Rotting Hood) had almost a cheesy quality about her. She didn't appear to have enough substance to carry this character throughout the film.
I am a big fan of Eric Balfour (my favourite actor in the TV series Haven) so I was quite keen to watch Little Dead Rotting Hood because of this alone.
If you are into The Asylum films and can keep that as your focus, then I think you could quite possibly enjoy this film. For the horror lover, it has sex and violence - what more could you want?
Little Dead Rotting Hood had potential, but I would have liked to have seen Samantha's character taken away from what was a predictable conception of her, into something "different". The idea of her seemed to lack imagination. If that had been the case I think this film would have been more memorable. Like I said previously, the cinematography is fantastic.
At times I felt that perhaps there were too many ideas being thrown at the story line instead of concentrating on the basics and improving the character of Samantha. As they say 'Sometimes less is more.'
I think if you are into the reinvention of fairy tales for horror films, you won't be disappointed.
For posts about Melbourne events, places, news, reviews, giveaways, see our Facebook Page: