---
---
A Reel Life film section
Issue: Winter 2016
The Measure of a Man (La loi du marché) (2015) movie review
A Life of Quiet Desperation and Happiness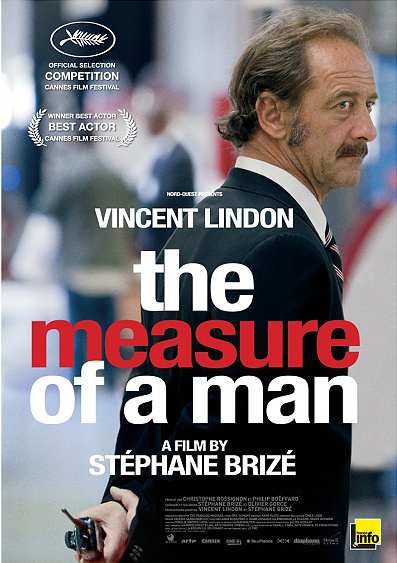 A middle-aged man, Thierry (Vincent Lindon), looking for work, tries to keep his family and his life together under difficult conditions.
Thierry is a French factory worker who has been laid off. As the film opens, he discovers he has just been through a course that he cannot use to find work. He is tired of looking for work, tired of fighting for better compensation from his last job, and feeling squeezed financially.
Thierry is basically a nice, ordinary man. He has a nice wife, and a near-adult son with disabilities, but ambitions.
When he does find work it is providing security at a large supermarket.
By which you can discern, gentle reader, that this film is not high drama. He faces small moral quandaries as people are brought into the interview room for thefts small and large.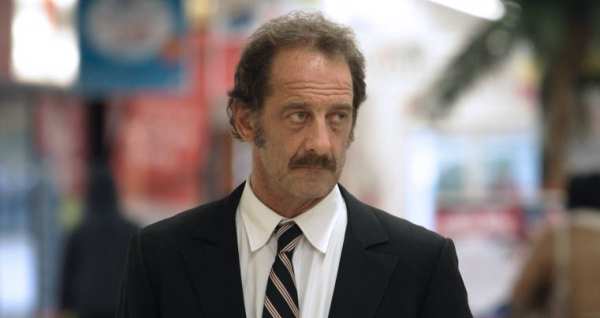 Ultimately, The Measure of a Man is an essay, a small look at a small man, a window into the life of those whose lives are so insecure in contemporary financial circumstances.
Links to official sites below
French language, English subtitles.
by Ali Kayn
Australian release 30 Jun 2016
US release 30 Jun 2016
For credits and official site details, see below
Search Festivale for more work by the film-makers below.
See also:

for movie, TV show, or person

Just the facts:

Title: The Measure of a Man (La loi du marché) (2015)
Written by: Stéphane Brizé & Olivier Gorce (scr)
Directed by: Stéphane Brizé
Running time: 91 mins
Rating: PG

---

The Players: Vincent Lindon, Karine de Mirbeck, Matthieu Schaller, Catherine Saint-Bonnet, Stéphanie Hurel

---

Official website: http://www.sharmillfilms.com.au/?p=4771
IMDb entry

---

For session times of current films, use the cinema listings on the Movie links page. For scheduled release dates, see the coming attractions section.

For more information about this movie, check out the internet movie database (IMDb).
For the latest additions to Festivale, check out the change history section.
For posts about Melbourne events, places, news, reviews, giveaways, see our Facebook Page: