---
---
A Reel Life film section
Issue: Winter 2016
The Meddler (2015) movie review
Mother Has an iPhone, and Isn't Afraid to Use It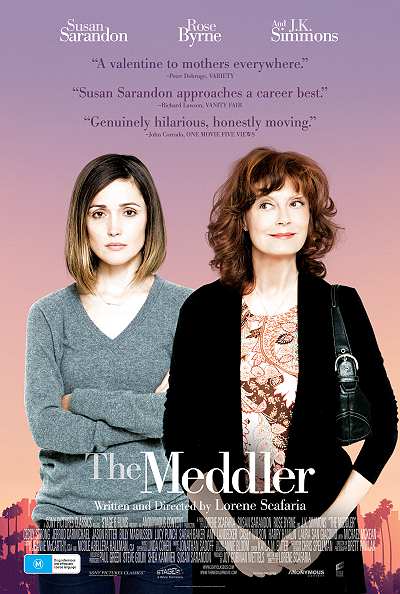 With a new iPhone, an apartment near the Grove, and a comfortable bank account left to her by her beloved late husband, Marnie Minervini (Susan Sarandon) has happily relocated from New Jersey to Los Angeles to be near her daughter Lori (Rose Byrne), a successful single screenwriter, and smother her with motherly love.
As Lori learns, the only thing worse than having her mother move close by is to have her on a mobile (cell) phone. Nowhere is her mother out of touch. We see Marnie in the car updating her daughter on her activities, thoughts and ideas.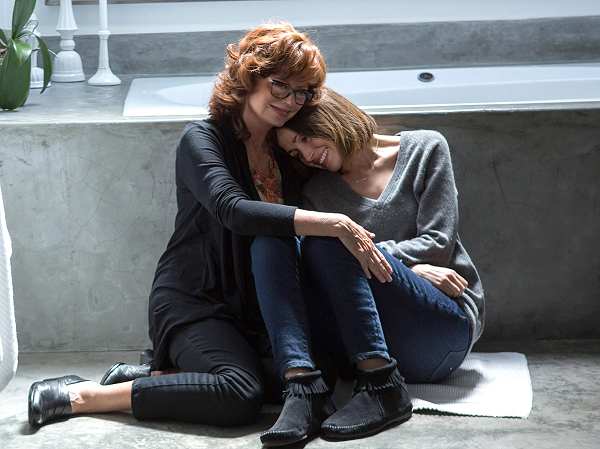 Lori is suffering from the twin losses of her boyfriend (Jason Ritter) and her father, although that was two years ago.
Left well-off financially and with an empty nest, Marnie is filling her days with Lori's life. She has no notion of boundaries, and she has not yet adjusted to being a single woman again.
It's an apology and a pep talk and a reality check and a bunch of wish fulfillment. ... It's for anyone who's been left behind. It's about our struggle to be understood, to not be forgotten. - Lorene Scafaria
When Marnie goes to a baby shower as Lori's plus one, without Lori, she discovers that the young women there think she is a great mother. As she tries to find other interests, she basically spreads her meddling around.
Writer/director Lorene Scafaria says: "It was a few years ago. My boyfriend had just dumped me and my father was still dead. I hated my job and LA and every thought in my head. And just when I wanted to pick up and go anywhere else, my mother sold the house in New Jersey and moved three thousand miles to be closer to me. I've been raising her in Los Angeles ever since."
"So this is her story, but with a little more adventure and trouble and fun and even a love interest with a mustache."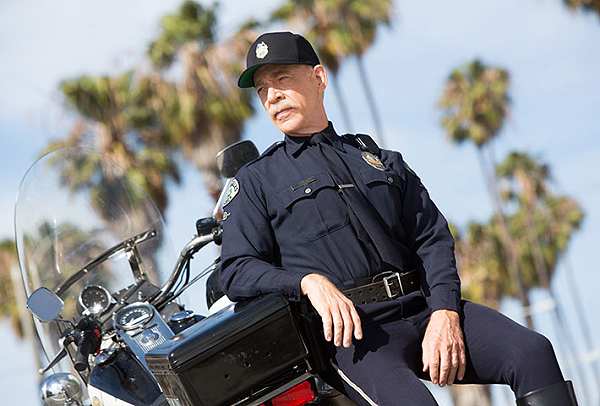 Susan Sarandon's performance is thoroughly believable. She and Rose Byrne play off another well, convincing us that there is love, loss, and the need to re-establish their relationship after a death in the family.
For love interests, Sarandon has Michael McKean as the nice guy she is set up with, and J. K. Simmons as "Zipper", the motorcycling ex-cop who looks a bit like Sam Elliot, and has that drawl.
A heartfelt story of mothers and their adult children, and about moving on, The Meddler is entertaining and ultimately satisfying.
International Trailer
Special thanks to Cinema Nova in Melbourne for providing access to the film.
Links to official sites below
by Ali Kayn
Australian release 19 May 2016
For credits and official site details, see below
Search Festivale for more work by the film-makers below.
See also:

for movie, TV show, or person

Just the facts:

Title: The Meddler (2015)
Written by: Lorene Scafaria
Directed by: Lorene Scafaria
Running time: 104 mins
Rating: M

---

The Players: Susan Sarandon, Rose Byrne,J. K. Simmons, Michael McKean, Cecily Strong, Jason Ritter,

---

Official website:Facebook
http://sonyclassics.com/themeddler
IMDb entry

---

For session times of current films, use the cinema listings on the Movie links page. For scheduled release dates, see the coming attractions section.

For more information about this movie, check out the internet movie database (IMDb).
For the latest additions to Festivale, check out the change history section.
For posts about Melbourne events, places, news, reviews, giveaways, see our Facebook Page: