---
---
A Reel Life film section
Issue: Summer 2015-6
Our Last Tango (Un tango más) (2015) movie review
Dance with Me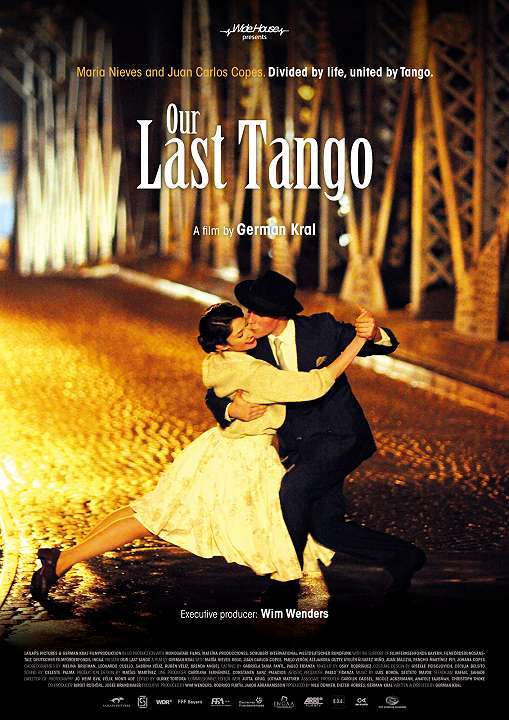 "María Nieves and Juan Carlos Copes are the best-known couple in the history of tango and have shaped the dance like no other. They danced together passionately, loved and hated each other for almost 50 years, until one day they separated. And that left a huge gap in the tango scene - Now, almost at the end of their lives, they talk about their story for the first time." says writer/director German Karl.
The tango might be the most recognisable dance in the world. Born in Argentina it is most often seen as a metaphor for love. A love where the man leads powerfully and the woman dances around him.
María Nieves and Juan Carlos Copes created a style inspired by his burgeoning skill and her speed and style, the man moving slowly, the woman fast around him. But always the power was his.
In life they were lovers, but there was a tension because he would permit himself to own her, but not for her to own him.
Inevitably the story of their career is a story of love and betrayal, of success and struggle.
Un Tango Más is a moving, fascinating documentary that intercuts the past with the present, the real life dancers with the rehearsals of the players who do the re-enactments.
The original Spanish title is best translated as "One Tango More", because this documentary is the story of the last time the couple dance together, but it is not the end of the tango whose spirit is more than any pair of performers.
This documentary is of interest to those of us who love the tango as a way of telling stories as well as a dance. It is also an essay on creativity, of the cost and joys of the outliers of society who entertain and inform us with their stories, fictitious and not.
Spanish (English subtitles)
by Ali Kayn
Australian release 24 Mar 2016
For credits and official site details, see below
Search Festivale for more work by the film-makers below.
See also:

for movie, TV show, or person

Just the facts:

Title: Our Last Tango (Un tango más) (2015)
Written by: German Kral
Directed by: German Kral
Running time: mins
Rating:

---

The Players: Johana Copes, Juan Carlos Copes,

---

Official website:
IMDb entry

---

For session times of current films, use the cinema listings on the Movie links page. For scheduled release dates, see the coming attractions section.

For more information about this movie, check out the internet movie database (IMDb).
For the latest additions to Festivale, check out the change history section.
For posts about Melbourne events, places, news, reviews, giveaways, see our Facebook Page: